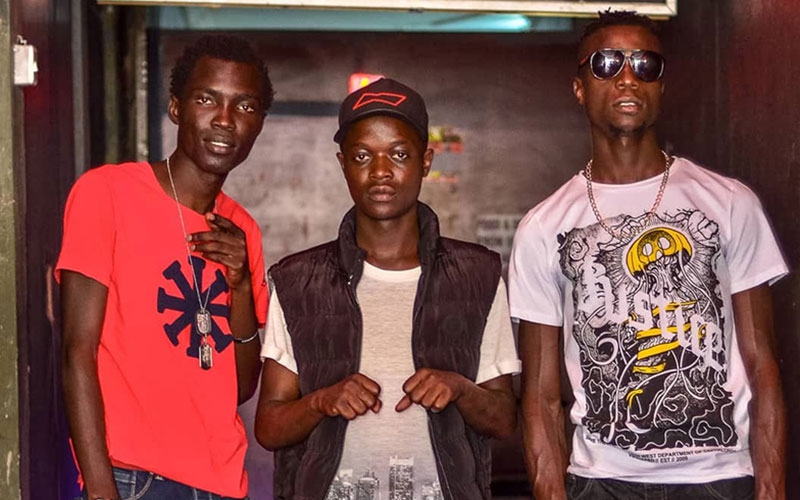 The National Agency for the Campaign Against Drug Abuse (NACADA) is looking for Mbogi Genje, the Gengetone trio from Umoja Estate whose music grabbed attention courtesy of the cryptic Sheng language used. The anti-drugs agency wrote on Twitter, "We are looking for the Mbogi Genje group of artists. Anyone with links can ask them to get in touch with us."
Even though the reason why NACADA is interested in meeting Mbogi Genje is yet to be known, it could be a lucrative deal in the offing as one of the group members, Militant Govana recently made headlines after saying he's a teetotaller. If the drugs agency partners with the group, it would seem lady luck is smiling on the Kidungi rappers.
Sonko meeting
Recently, Mbogi Genje met with Nairobi Governor Mike Sonko who pledged equipment and financial support to enable them record music and make quality videos.
"We thank God for this great day with Honorable Sonnko. We don't have much to say but happiness on how he is supporting artists on both sides of the country. He promised to aid us with music equipment and support us in our daily music. My the God bless you always" the group wrote afterwards.
Anti-drug abuse campaign
Just this week, Mbogi Genje was named ambassadors against drug abuse by RFH Health Care. Speaking as they signed the deal, Dr Maxwell Okoth said, "We are opening a drug and rehabilitation centre and we have identified Mbogi Genje as best to work with because of their rapport with the youth."
Militant Govana said, "It's a project we are really keen on because we have seen firsthand the youth in our hood struggle with addiction."