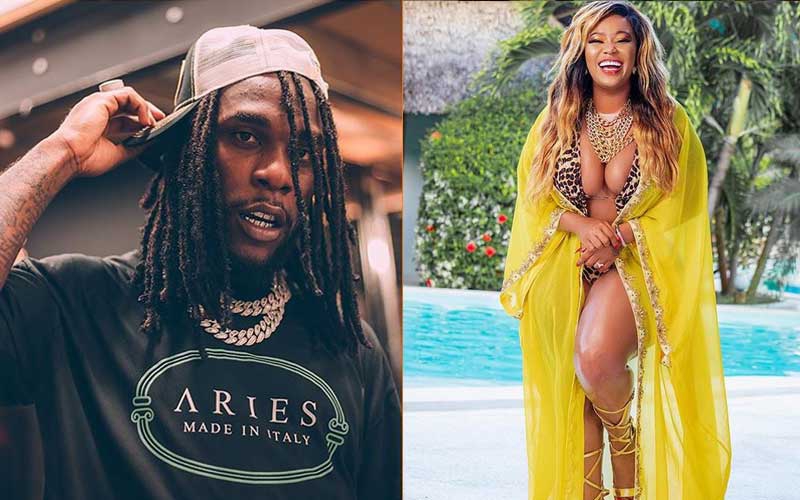 Burna Boy has been prompted to explain to his fans why he has been missing from the ongoing protests against police brutality in Nigeria. According to the 29-year-old singer, his inability to join the protests is for personal reasons. While responding to fans who requested his presence at the protests, the music star disclosed that his mother is recovering from surgery.
"Probably my biggest frustration atm(at the moment). But I have to stay here and make sure my mum recovers fully from her surgery. I dey wit una fully! #SARSMUSTEND," he tweeted.
READ ALSO: Huddah dating Juma Jux? Video evidence sparks speculation
Last weekend, the On The Low hitmaker announced that he has established a relief fund, ProjectProtectng, for victims of police brutality across Nigeria. While at it, he revealed that American hip-hop star P Diddy had made the first donation to the program. Affirming his support for the growing protests, Burna Boy said it is the right time for Nigerians to fight for what they believe in.
"The state of our country, Nigeria, is tricky; it has been from before I was born. My greatest concern in all of this is that SARS will end now as it allegedly has several times in the past. I recall giving calls to end SARS during my USA tour in April 2019 and morph into a different entity down the line with a different form or a different name. In my opinion, abolishing the unit is a definite first step but we cannot afford to stop there," he said.
Away from the protests and closer home, Socialite-turned businesswoman Vera Sidika has denied claims she is dating the Nigerian rapper. Rumours of the two dating started early this year after Vera Sidika visited Los Angeles, California. She then shared photos and videos at a gun range only for Burna Boy to share images from the same location. Fans noticed even the booth was the same and concluded the posting at different times was a choreographed move.
READ ALSO: Nayika confirms Jux split days after Huddah's Zanzibar shoot
"I am not dating Burna Boy, he has a girlfriend. Rumours are always rumours, they will always be there. There is someone else who is special and I am so happy I have even added 'happy' weight. I am in a relationship and very happy," said Vera.
Burna Boy is said to be dating British singer Stefflon Don.
Related Topics