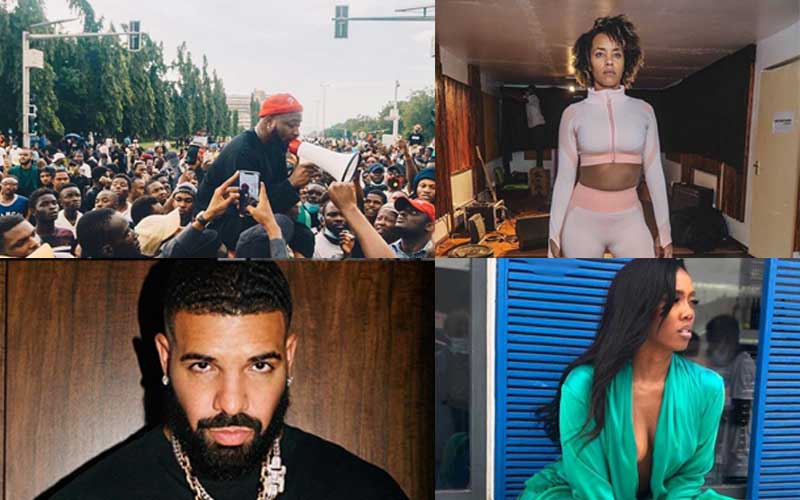 Celebrities around the world, including wellness trainer Chiki Kuruka are expressing their support for a social movement under the hashtag #EndSARS to end police brutality in Nigeria. Various stars have used their platforms to express their support for the movement.  End Special Anti-Robbery Squad (#EndSARS) is a social movement in Nigeria that started on Twitter calling for banning of the Special Anti-Robbery Squad, a unit of the Nigerian Police Force. Protests against the unit began after a video surfaced of a man being killed by police.
READ ALSO: I've lost friends to police bullets- Nyashinski decries police brutality
Veteran singer Tiwa Savage as one of the celebrities who lent their voices to the online campaign, claiming that the time for change has come and she has no choice but to join millions across the country in advocating for the abolition of the said unit and the end to police oppression and brutality.
"I don't really think I have a choice, it's something I have to do because everybody is affected by this, we have to do something, we are tired. Enough is enough. We have to value life, young lives in Nigeria, we have to speak up," Tiwa Savage said.
Soon after, singer David Adeleke also known as Davido joined the #EndSars protest in Abuja. Davido didn't just protest but also championed the release of some of the protesters who were arrested.
"Abuja we on the way," he tweeted and moments later took to his Instagram page to announce that all the protestors who had been previously arrested had been released. He went on to address why the SARS needs to be disbanded.
"Amidst it all. We must not forget the reasons we are protesting; we must not forget the peaceful manner of the protests and we must most certainly not back down until our demands are met! You either live for something or you die for nothing. SARS ending is a great start but the task is far from completed! Now let's end police brutality as a whole!" he added.
However, popular Nigerian Singer D'Banj surprised netizens when he joined the protests. This was after he allegedly used members of the Nigerian police force to intimidate a woman identified as Seyitan Babatayo who had accused the singer of rape earlier in the year.
READ ALSO: D'banj's ex-manager corroborates rape accuser's claims against singer
Across the continent, Hollywood star Viola Davies joined the online campaign. The How To Get Away With Murder actress took to her Instagram account to share a detailed post on the reason for the protests and why everyone should be speaking up about it. She captioned the post, "praying for Nigeria".
On the other hand, Drake shared a post on his Instagram Stories stating that it breaks him down to see what is happening in Nigeria.  Trey Songz also voiced his support for the people of Nigeria writing, "Police brutality here in America often is an abuse of power-driven by race. To be brutalized, extorted and murdered by your own people is unimaginable. Prayers up and I'm researching ways I can help. #EndSARS."