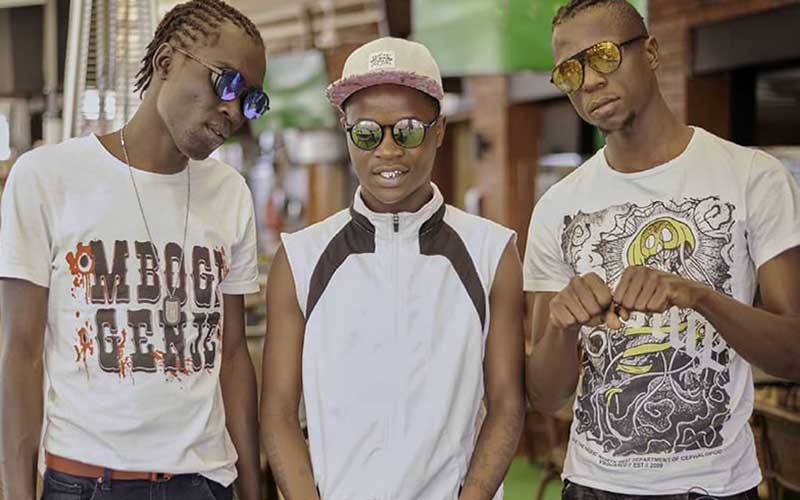 Having released Ngumi Mbwegze and Kidungi last year, new Gengetone group in town Mbogi Genje has been on a spree this year releasing hit after hit. They have released Kuja Mbaya (featuring Exray), Wamocho (featuring Richy Haniel and Mejja, Kamkoba (featuring Vdj Jones) and Ikijipa (featuring Rix Roro and Dede Tarshian) among others.
Right now, they have about six unreleased songs ready for the market. Basically, this is one of the fast-rising Gengetone groups in town riding on the street cred music beat. This week, they have highlighted a number of club shows among them a night show at Blend Lounge, Mombasa Road.
Read Also: Mbogi Genje talk about the misconceptions of being gangsters
"We really feel like this is the right time for our breakthrough. We feel that it is time for us to take over the Gengetone wave. No other group is releasing more songs than us neither is there another as organised and business-oriented right now," the group told Standard Entertainment and Lifestyle during an exclusive interview. "The demand for our music is now there and fans are asking for more. We have numerous invites to concerts and club shows and we are letting our management to handle that. We are also getting a number of endorsements coming our way and we are simply taking a day at a time as we thank God for his blessings," they noted.
The youthful group that has revolutionalised the Kenyan street slang could be sealing a deal with RFH Healthcare following a series of meeting with the medical care establishment's CEO Dr Maxwell Okoth. The health facility that has been endorsed by leading celebrities such as Size 8, Akothee, Owago Onyiro and Bahati in the past is said to be entering an endorsement deal with the youngsters.
They, however, note that it is too early for them to comment on the matter. "Like we said, we have a management team handling our management issues and we will communicate on this matter once ready. It is not only these guys who have approached us but many more," the team said in response to the rumour.
Read Also: Wamocho - Mbogi Genje, Mejja and Richy Haniel release new banger
If the deals come through, the group will be going the Ethic Entertainment way. The group behind the Figa hit single signed a record deal with a subsidiary of Universal Music Group; AI Records last year. It was after that when the group, also known for Lamba Lolo, started getting into serious deals with corporates and alcohol brands. Not so long ago, Mbogi Genje – the group comprised of Smardy Tinqs, Guzman and Govana – got an invite from the Nairobi Governor Mike Sonko who pledged to support their music quest.