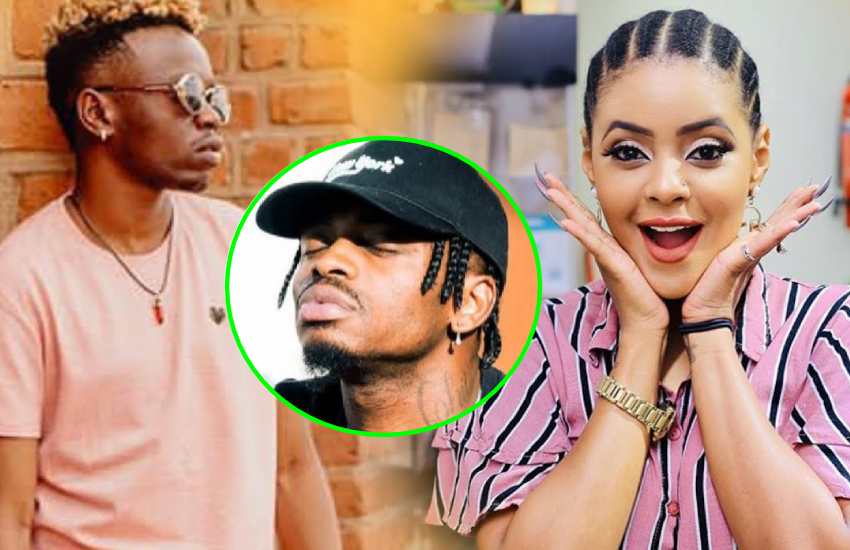 Popular Tanzanian singer Omari Mwanga alias Marioo has given Diamond Platnumz the green light to date his ex, Vanessa Mdee's younger sister - Mimi Mars. This is after Mimi Mars was spotted having a swim at Platnumz's house days after the Wasafi Classic Baby (WCB) founder publicly professed his love to her.
Opening up about his decision in an interview with the Ijumaa Newspaper, the Inatosha crooner explained that he respects Platnumz so much so that he would give up the woman he is dating for him. "About Mimi Mars, I am very okay and actually I have no issue with Diamond, we are at peace because he is my elder brother. Because I respect him, he can take any woman he wants even the ones I am dating. I can never hate him because he deserves the best and all I can say is that I will always thank him," he said.
Read Also: Zari Hassan secretly seeing Diamond Platnumz? She responds
Marioo's declaration comes weeks after he shocked his fans by posting a picture of a noose on his Instagram account, sparking fears he wanted to commit suicide after news of Mimi Mars and Platnumz dating went viral. Addressing the matter, the singer explained that he was never suicidal and that he was promoting his upcoming song.  "People have been asking me about my relationship and have been giving them a good response. I cannot hang myself as people thought, I was only trying to prepare fans for the release of my song," he added.
Mimi Mars and diamond
Roughly a week ago, the Tanzanian songstress confirmed to being in a relationship with someone else stating that her relationship with the Wasafi WCB boss was purely work-related. "Our relationship is purely work-related. We have an upcoming project and that's all. I have someone in my life already. I thank God because he is extremely understanding and even when I went over at Diamond's place he knew about it, we spoke about it and he understood why I went there. That's why I insist that the people that matter to know already know, the rest can continue spreading rumours," she said.
Read Also:It was hard dancing with Diamond, Zuchu confesses
Even with Marioo's 'blessings', it will still be hard for his ex to date the Bongo Flava A-lister. According to Mimi Mars, Platnumz's previous relationships have reinforced bad perceptions. "I don't think my relationship with Diamond can be more than work because you can imagine how people talked just because of the pool video, imagine if we are seen hanging out together in public. People don't understand that someone like Diamond can have a normal relationship with a lady because of his nature or past maybe because of what we know about him," added Mimi Mars.