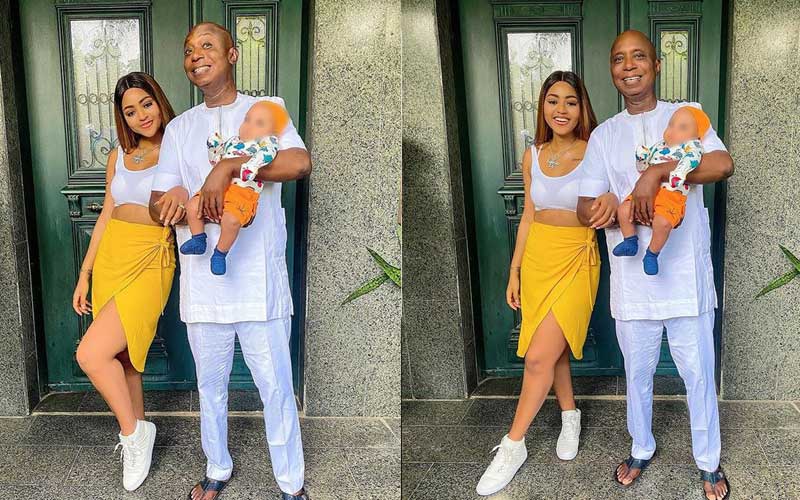 Nollywood actress Regina Daniels and her husband Ned Nwoko could be going through a rough patch in their marriage. This is after the couple unfollowed each other on Instagram but both parties have remained mute on the development. Just last month, Nollywood movie star, Chike Ike was rumoured to be in a relationship with Regina Daniels' husband. Responding to the allegations, Ike denied being in a relationship with the billionaire businessman.
"There's a rumour going on, are you really dating Ned Nwoko, and are you going to be the 7th wife?" a fan posed, to which she replied, "No. I'm not about to be anybody's 7th wife. NEVER!"
A few days before Ike's response, it was claimed that Rita Daniels's mother threatened to deal with Ike spiritually for trying to her daughter's husband.  Daniels and Nwoko welcomed their first child together in June 2020 with the 59-year-old tycoon captioning a photo of the pregnant actress "It is now official."  
Reposting the same, the 19-year-old beauty wrote, "I have never been this happy before, this feeling of becoming a mum is the most amazing journey of my life...I see myself speaking to my tummy all day, staring at the mirror and still can't believe it. This child is about to change my entire life Oh! How much I can't wait."
The couple previously made headlines when she revealed that her husband gets angry when she tries to cook.
"I cook, but he has stopped me, I cannot enter the kitchen. If I enter the kitchen he says 'stupid girl why are you cooking? You have cooks'," she told media personality Daddy Freeze in Dubai.
Their marriage has been the subject of widespread debate, with detractors accusing her of marrying her older partner for money.