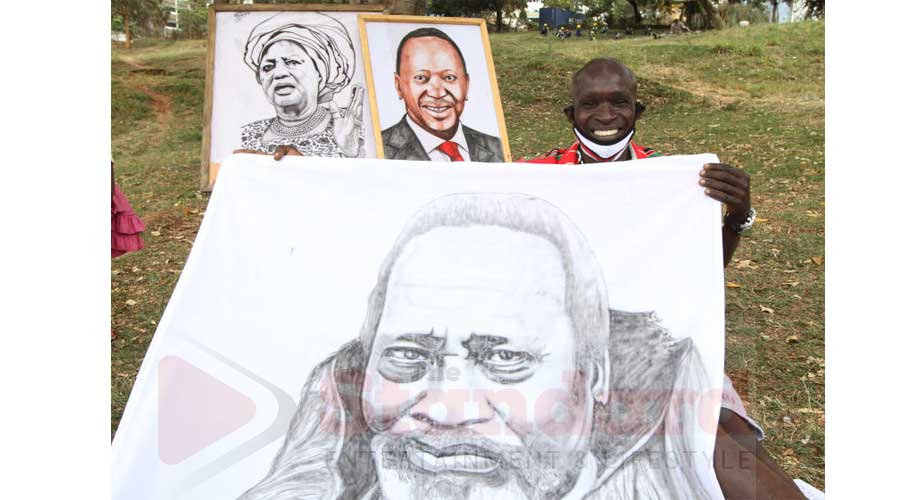 Collins Obado, a tuk-tuk driver in Kisumu, has been seeking to join the Kenya Defence Forces (KDF) for the last 15 years. He says joining KDF was his lifelong dream and he won't listen to naysayers who have told him that the age limit is 26 years. The 37-year-old father of two says he has been using his painting talent to get the attention of the government with the hope of landing his dream job. The tall and dark man is jolly, with a wide smile being his number one asset. He is dressed in political regalia, including a Jubilee party scarf, but his shoes are scuffed and torn, perhaps an indicator of the long and treacherous journey he has endured in the pursuit for his dream.
"I have been trying to get President Uhuru Kenyatta to see my paintings since 2013. As you can imagine, it has not been easy. This past week, I struggled to get bus fare to Nairobi after I heard that the president's plans to come to Kisumu had been postponed," says Obado.
READ ALSO: His team is in touch – artist behind viral Steve Harvey artwork
Obado first tried to get the attention of the president during a Kenya Power event in Mombasa. The painter was also present at the reopening of the Marikiti market earlier this year, carrying his paintings with him in the hope of showing his skills and support for the president.
Pursuing president
When he spoke to The Standard, Obado had just arrived in Nairobi following the president's no-show at the opening of the Port of Kisumu. The artist proudly shows off illustrations he has made of the president, his mother Ngina Kenyatta and father, Jomo Kenyatta.
"I use a normal biro pen for my work because the professional tools are expensive. I feel happy using my talent, and I do it to show my support for the government. I would also love to earn well from my art talent in the long run," says Obado.
He says his art has been used in the past during election campaigns, demonstrating his patriotism.
"I want to join KDF to protect people and to truly show my love for my country," says Obado.
In the meantime, the tuk-tuk business helps him put food on the table. He borrows a tuk-tuk from a friend whenever he needs to make a little money.
READ ALSO: How coronavirus spoilt my party with Steve Harvey - Collins Okello
"I draw for people often for pay, but the art business has honestly been doing badly. If I really need to buy unga and some omena for my wife and children, I have to borrow the tuk-tuk. I charge Sh50 per trip. I only carry two passengers per trip because of Covid-19 regulations," says Obado.
He says times have been tough for him, but his KDF dream as well as his painting work give him hope for a better tomorrow. The Ministry of Defence, on its website, states that prospective officers must meet the minimum qualifications in order to be considered for a role, leaving no room for negotiation in terms of age, height and weight requirements.
"The candidate must be a Kenyan citizen with no dual citizenship. He or she must be aged between 18 and 26 for General Service Officer cadets; not above 30 years for specialist officers and not above 39 for chaplains/imams," reads part of the general requirements.
Related Topics