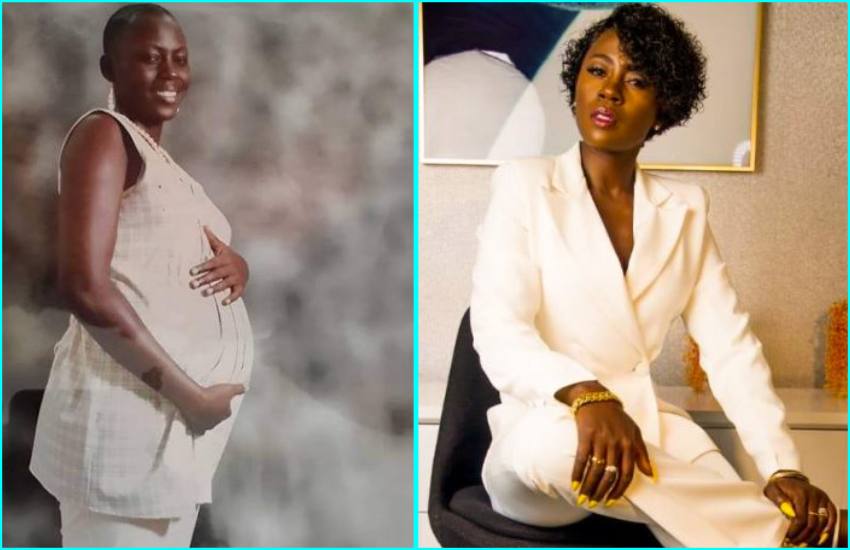 They say a picture is worth a thousand words, an adage songbird Esther Akoth alias Akothee lived up to on Thursday, Oct. 1 after she took to Instagram to share a never-before-seen pregnancy photo.
Opening up about her past life, the Shengerera crooner recalled that she donned Sh20,000 pregnancy suits while heavy with the child to one of her baby daddies - Dominic alias Papa Oyoo, the father to her youngest son. "Eeh with Oyoo's pregnancy, none of my maternity suits was less than Sh20,000. Halafu nipate mtu ananitia mimba kama hii halafu anahepa, tutahepa na yeye haki, sibebi aibu peke yangu haki. Please don't lower standards abeg," posted Akothee.
Read Also:I love and respect my three baby daddies - Akothee on co-parenting
Celebrating Papa Oyoo's birthday two weeks ago, the mother of five revealed that he gifted her a Sh45 million house. "It was on a day like this 17. 9 2009 on your birthday, that you proposed me and bought me a house behind the then Nakumatt @45M… You thought the kids and me would be happy in that home you loved the pool and the chef Mr Shinando, you wanted to see your queen happy. I had to protect you and our property. Now today I want to tell you that since I met you, I have known that true love and angels still exist," she wrote.
In 2019, the singer, touted as one of the richest in Kenya, disclosed that the Frenchman gifted also her an apartment because their children, Oyoo and Ojwang, were having a hard time getting to school. "Let's take a moment and appreciate my ride and die papa Oyoo. A very selfless guy. He just surprised me with a new apartment directly opposite the school! He says he wants the children to have enough sleep other than waking up early in the morning and driving for 45 minutes to school from our house on the seaside!" read Akothee's post in part.
In a previous post, she reminded her followers that he genuinely proclaimed his love for her. "There is only one man on this planet earth that ever said what he meant (Esther I love you). And that man is Papa Oyoo. He meant it. He still means it," she wrote.
She, on the same breath, pointed out that her other baby daddy whom she only identified as Mr M cheated on her when she six months pregnant. "Women were jealous of me, they never knew the sleepless empty nights I had… One day, I decided to follow his car, (he was driving my car, which I gave him) upon arriving in Mtwapa, he packed the car in vichochoro, I could not figure out which house he went into, I suppose it was one girl he always talked about, her name was "Amore", but they were several so I don't know who. I lost hope and went back home as it was scary to just pack there yet I was 6 months pregnant," shared Akothee.
Read Also:Akothee warns fans against depending on sponsors to achieve life
She went on: "… I wanted to beat him up. I had no strength - I was pregnant. I was also afraid he would leave for good. I loved him so much that I would cry and pick up the next strength. Chasing a man for love and attention ended with Mr M. Mr M didn't settle for any of the women who gave me sleepless nights, neither did he settle for me, imagine if I committed suicide."