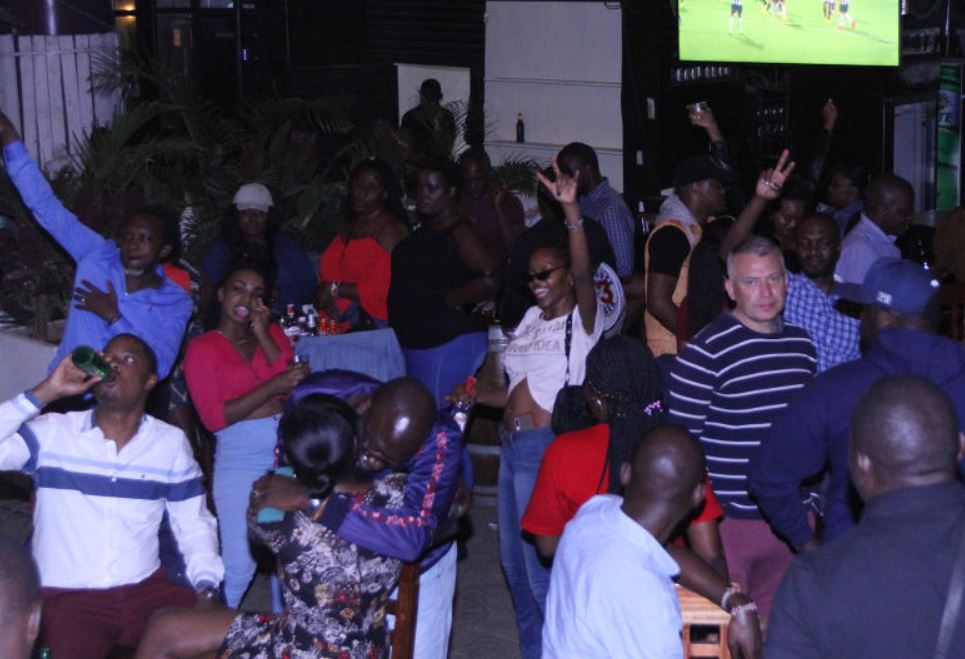 Like a scene from the Prison Break series where Michael Scofield meets his comrades T-Bag, Burrows and Fernades, lovers of the bottle trooped to their favourite joints yesterday following the reopening of bars. From high-end clubs to the local joints, the patrons celebrated in dance and stories like they had not seen each other for decades. "Today we open our doors to the public after a long wait for the president to 'open' the economy; people missed the night fun," said Ahmed, a manager at XS Millionaires Club on Nairobi's Baricho Road.
As the waitresses served the revellers tequila shots, chilled beers, whiskys and brandy to quench their thirst, they reminisced the Covid closure that had shut them out of business for months. Sassy lasses including pole dancers were back to work, setting the mood for a fun-filled evening.
In Nairobi West, the beer belt was not left behind as revellers enjoyed the cool evening breeze perched on their plastic chairs on pavements outside the clubs as waiters served them their favourite drinks. Robert Wafula, a food vendor selling smokies, sausages and boiled eggs served with 'kachumbari' was a happy man as business showed signs of picking up. "I'm happy today that I can now sell my products. I heavily rely on the revellers," he said.
ALSO READ: Uhuru speaks on reopening of bars
The DJs were not left out on the party either. DJ Exclusive thrilled fans who had missed his spinning skills during the period the bars were closed. He was performing at the 1824 joint on Langata Road where he kept his fans on the edge of their seats as they reminded themselves of the days before Covid-19 shutdown that transformed their world. 
Bar operators in Busia County, which borders Uganda, however, have a different kind of challenge. Many are at a loss on whether to wait until the border is opened so they can resume operations in Uganda or open same facilities in Kenya now that the government has reopened bars. A considerable number of Kenyan traders opted to invest across the border due to low prices of goods. The low beer prices saw many Kenyans flock Uganda to drink. The border is yet to be opened to human traffic since it was closed in March to control spread of the infectious virus.
ALSO READ: Khaligraph Jones pleads with Uhuru to reopen bars and clubs
While Kenya has allowed bars to operate up to 10pm, Uganda, on the other hand, is yet to do the same. Harrison Kenyatta is among those that operated a bar and restaurant in Sofia, on the Uganda side. He was forced to close it down when coronavirus struck. He is now clinging on hope that soon the border will be opened to enable him return to Uganda. "I hope the border will be opened and Uganda also allows us to operate bars because we have been out of business for a while," said Kenyatta.
To remain afloat, Kenyatta has opened a restaurant at the heart of Busia town.  "I will return to operate in Uganda when things settle and the border is opened to the public," he said. Bar operations are directly linked to other businesses such as car-wash, taxis, and food vendors outside the clubs. Wines and Spirits shops have been making a killing during the pandemic, as lovers of the bottle locked out of bars flocked the stores to buy their favourite tipple.
ALSO READ: Section of Kenyans unhappy with IG Mutyambai's remarks on reopening of bars
For many, the lengthy closure of bars opened their eyes to the sometimes overpriced drinks sold in bars and clubs. A 750ml bottle of whisky that costs up to Sh6,000 in a club is half that price in liquor shops, and more Kenyans are now aware of that. Taxi operators will also heave a sigh of relief as they get a chance to earn some cash ferrying patrons home.