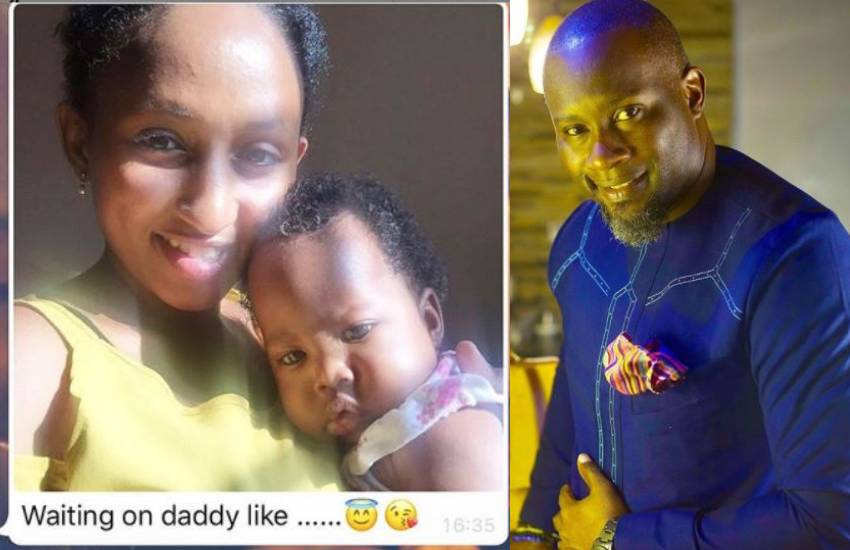 Veteran music producer and Joka Jok designer Tedd Josiah has shared a tear-jerking photo taken days before his late wife Regina Katar passed away after a short illness in 2017 that captured one of her emotional moments with their daughter Jay Jay.
In the post seen by Standard Entertainment & Lifestyle, the former Blu Zebra Records boss revealed that the photo was taken by Katar as she waited for him with Jay Jay to return from work. "People tell me love doesn't exist a lot nowadays and my response is always, then you've never met love or felt love. I know love because I saw and felt love," narrated the 50-year-old personality.
Read Also: Why I won't marry soon- Widowed music producer Tedd Josiah
 "In 2017 Sept 27, mama Jay Jay sent me this picture of my ladies waiting for me to come home from work... it's a little thing maybe even irrelevant I mean how many ladies take a picture with their babies and send to their husbands stating that they are waiting for him to come back home? Am sure many," went on Josiah.
He explained that the adorable gesture would proof crucial after she died as it immortalized her time with Jay Jay and her love for him. "For me, it meant I was wanted, I was loved, I was needed and most importantly I belonged to a home. Looking back all she had was a couple more days with us but she made another memory for Jay Jay and me to cherish and keep in our hearts," he added.
An experience he urged his followers to learn from, "When you are gone all you will leave for your babies, your husband or wife is just those memories that's what will count the most. That's all that will matter." A message that echoed his August 15 post where he implored on his social media family to let go of life's vanities.
"Facing 50 has only helped me face me with clarity and made me want more for the people I love and myself. But remember the older the lion the larger the beautiful mane but the older the lion the more the scars. Love your scars, they are a part of who you are," he wrote.  
Read Also: Tedd Josiah opens up on his last moments with late wife, Regina Katar
According to Josiah, scars that he says do not define who he is today but are part of his life story. "I've been the "hottest" while being the emptiest soul focused on nothing but winning. I've made and lost money. I've been a blessing to some and a curse to others. I've been a soul longing for pure love, I found love and buried love," shared Josiah. "All of these are my scars. They don't define me today. They are a part of a bigger me and if I only focus on these I'd feel like I was nothing."