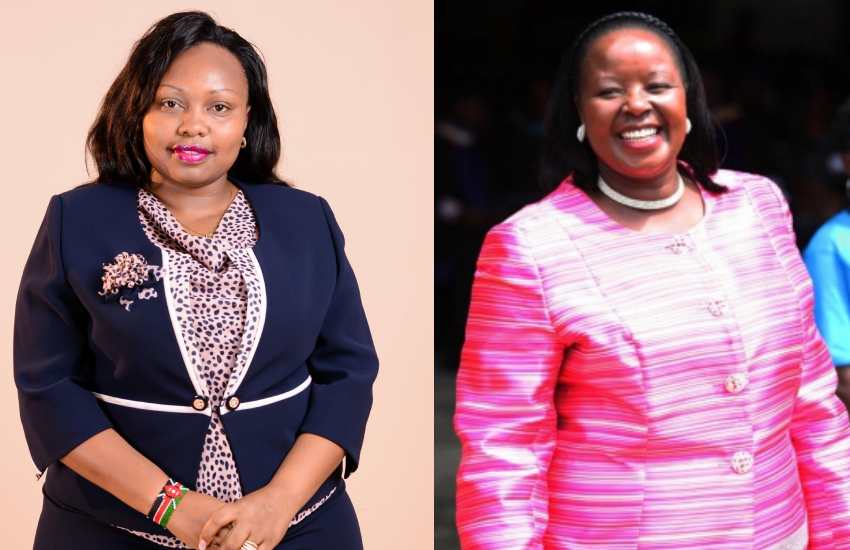 With the 2022 political heat gaining momentum by the day and politician positioning themselves for the best power bargain, top political leaders in Nairobi city are not leaving anything to chance. It could be a small 'chama meeting', a charity or a church meeting or as it would be a real political one, whatever space offers an opportunity, there they will be declaring their interest if not flexing their political muscles.
Yesterday, September 25, was such a day for Senator Millicent Omanga, the Manchester United die-hard and politician who is never scared to flaunt her figure having made a resolution to maintain her gym routine and remain in perfect shape. Well, by now (if you have been following) you know she has gone real strong about confessing her Christian faith and it is, therefore, no surprise mentioning her on the same breath with Bishop Margaret Wanjiru of Jesus is Alive Ministry.
Read Also: Were it not for Ruto, I would be hawking bedsheets- Senator Millicent Omanga
Taking to her Instagram page, she described how it had been a great privilege to fellowship with Bishop Wanjiru alongside all Nairobi female MCAs as she flaunted a photo of the two together looking real graceful. "Therefore encourage one another and build up one another, just as you are doing," she penned, quoting 1 Thessalonians 5: 11 from the good old book.
"It was a great privilege to worship with Hon. Bishop Wanjiru alongside all Nairobi women MCAs. The summit of our discussion was about women unity and creating a dynamic platform that would see more women empowered economically and politically especially in Nairobi Country. Women progress will increase our collective ambition as a nation for achieving the two-thirds gender rule," she wrote.
Read Also:COVID-19: Margaret Wanjiru speaks out after being discharged from hospital
About a month ago, she was at it recalling how not only she had committed but also "laid down plans for the unrelenting pursuit to remain truthful and work for the people of our great republic". One would easily wonder where the other two 'power women' in Nairobi during the last polls; Rachel Shebesh and Nairobi Woman Representative herself, Esther Passaris, would have been interested with an invite to such a motivational devotion or, well, how would they respond to this gathering's resolute? Anyway, over to you!