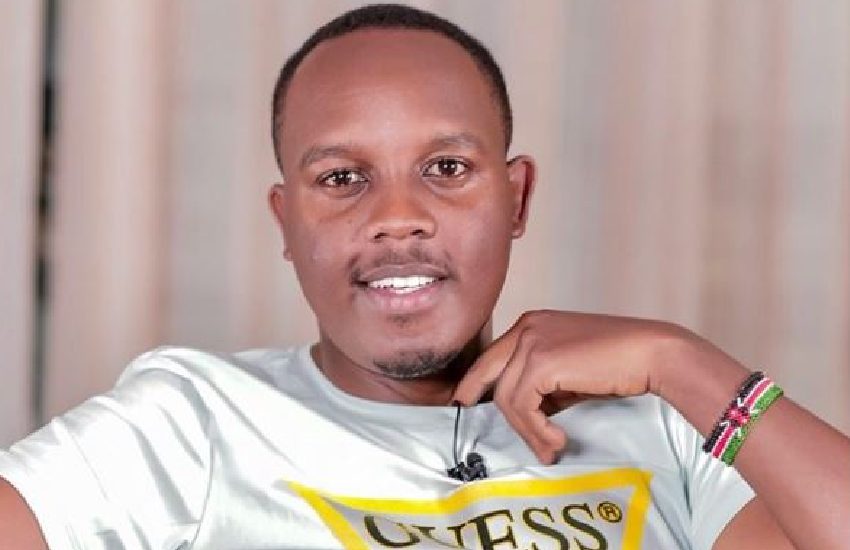 Popular Kenyan screenwriter and actor Abel Mutua aka Mkurugenzi has let netizens in on how his wedding played out six years ago that saw his low-budget civil union idea turn into a fully-fledged white wedding.
Narrating his wedding experience and reminiscing over his 'grand world-class' proposal, Abel explained on his YouTube channel that he made up his mind to propose to the love of his life - Judy Nyawira – as they drove home after paying his friend and co-owner of Phil-lit Productions, Philip Karanja, a visit.
"In August 2015, my wife and I were on the bypass going home after visiting Phillip Karanja's home. Then I thought to myself, I have been with this babe for a while now si we just actualize this relationship once and for all. Then I gave her a world-class grand proposal, one that has never been done before it is only for wakurugenzi's. Without caring about pedestrians or oncoming vehicles I looked her straight in the eye and told her if she will live with me forever. The answer was a resounding "Yes" because we had been together for seven years," he said.
Read Also: Meet the real 'mboch' of Kawangware: Script writer Abel Mutua
With the proposal out of the way, Abel revealed that he and Nyawira at first agreed to formalize their union over at the AG's office explaining that it was cheaper and more convenient.
"We agreed the wedding day will be on her birthday, November 21st, which was three months away. When it comes to weddings, three months is a very short time so we didn't plan to have something big coz guys take a year plus in planning. So we agreed we will go to the AG. I knew that will not take up much financially.
"But let me tell you the things that happen in the salons, heh! She was influenced to have a small ceremony in church after the AG. Next thing she said from 20 to 100 people. Then she wanted a lineup that is not so packed. Next thing I know we were having a fully-fledged white wedding. I put in all my savings on that wedding," he continued.
How they met
In a past interview with Standard Entertainment & Lifestyle, Abel revealed that he and his wife met at the Kenya Institute of Mass Communication where he was pursuing a course in film production. "I never dated in college until the last semester of my final year. And guess what, that girl I met two months before I left college ended up being my wife," he said.
Read Also: How I met my wife- actor Abel Mutua
Even with the tremendous fame acquired along the way, Abel and Nyawira have continued to grow stronger in love - clocking 11 years together. "Enyewe God ni msoo kama hapa ndio tumetoka babe! Happy anniversary love. Tungeenda katrip lakini mfuko inainsist tugonge kikombe ya supu na mutuch pale kwa Wangai. Leo nilikuwa nikuharibu na mutura ya thao lakini soo tatu nimenunua tokens. Wacha tuone ya soo saba inatoshana aje. I love you my baby. 11 years down 89 to go. After 100 Wacha tusample maraiya wengine tafadhali," shared Abel.