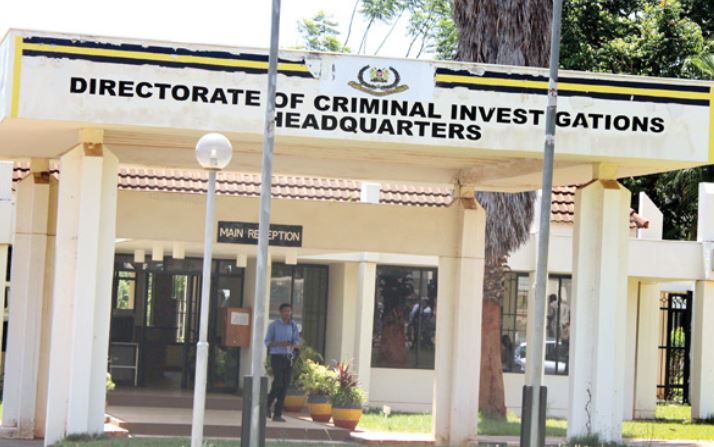 The Directorate of Criminal Investigations (DCI), on Monday, September 21, arrested two more suspects in connection to a car theft in Mombasa county. The two suspects, Owen Joseph Malai and Patrick Anthony Mwakio were arrested in Manjoni area a day after their counterpart Boris Mutua Malai was nabbed in his home in Kiembeni, Mombasa county.
According to the DCI, Owen Malai is 'believed to have driven and parked the suspect motor vehicle Reg. No. KCX 726Q on pretex of having developed a mechanical problem.'
The arrests come after a public outcry following a video showing the suspects breaking into a parked car. In the video, which has since gone viral, two men are seen arriving in a Toyota Ractis, and one of them proceeds to unlock the car. After several attempts, one of the suspects broke the side window, opened the door, and stole valuables.
"Following credible information from members of the public, a team of detectives led by the CCIO Mombasa has arrested BORIS MUTUA MALAI from his home in Kiembeni and recovered a Toyota Ractis bearing Reg. No. KCX 726 Q.
"The motor vehicle was captured on camera on 17/9/2020 bearing plate number KCU 113 P at a crime scene at Texas Building near Cinemax within Nyali where a car was broken into and valuables stolen from therein," said the DCI.
ALSO READ: DCI after woman who framed her husband in defilement case
#thieves breaking into parked cars in Mombasa. Avoid leaving valuables in your car unattended. pic.twitter.com/uJqGJNgZCI — Simba Guleid (@simba_guleid) September 18, 2020
Still in Mombasa, three individuals believed to be part of a car theft syndicate were arrested in Kilifi and Kajiado counties. DCI says the suspects would pose as genuine customers when hiring cars and later tamper with the tracking gadgets before disposing of them.
"Three members of a criminal syndicate operating in the Coastal region that has been stealing hired cars after posing as genuine customers were yesterday arrested in Kilifi & Kajiado by Mombasa- based @DCI_Kenya detectives, & a Toyota Axio that was stolen two months ago recovered.
"Pursuing a case where the victim hired his KCT 250T Toyota Axio on July 26, 2020 to one of the suspects; George Morara Aboki for three days but who disappeared since, detectives established that the syndicate was tampering with the car tracking gadgets before disposing them in Tanzania via the Namanga border," said DCI.