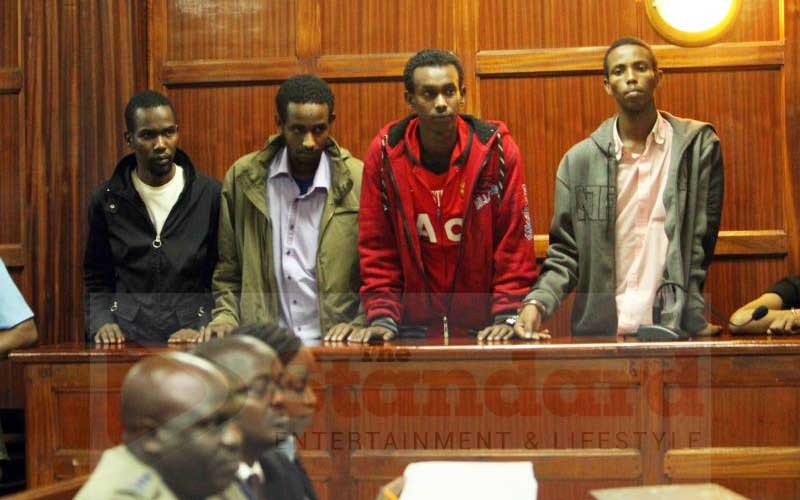 Three suspects linked to the 2013 Westgate terror attack have boldly asked a Nairobi court to grant them special treatment as they await their sentencing. Appearing before Magistrate Francis Andayi on Friday 18, the trio complained of poor living conditions in the cells. One of the suspects, Hussein Mustafa, told the court that beans and kales, which were provided at the prison, were affecting his health. The second suspect, Liban Abdullahi, complained that the porridge provided did not have sugar. He also claimed that he has lately been taking only a little milk and bread after the beans and kales meal started affecting him saying, "Currently, I have been taking porridge, bread and some milk. I have a problem with kales and beans. "
READ ALSO: How the hell did Westgate terrorists escape Recce Squad?
Another suspect, Mohammed Ahmed Abdi, told the court that the cells were too cold, adding that he needed an extra blanket. He also complained that he cannot see well. On his part, State prosecutor Edwin Okello stated that sugar and warm water were resources that were available at the Kamiti Maximum Prison, indicating that officers should explain why they were not available. Magistrate Andayi ruled that none of the accused persons seemed to have a serious medical issue, adding that they appeared to be faring well. He however ordered Kamiti to file a report on the suspect's issues within 10 days.
"None of the accused persons seems to have a serious medical issue. They appear to be well even as the third accused person says he's not able to see well. The prisoner in charge is hereby called to address those issues and file a report in court. The report is expected to be filed in 10 days of how he has addressed the complainants raised by the accused persons," the ruling read.
READ ALSO: Uhuru's niece Nana pays tribute to relatives lost during Westgate terror attack
Their sentencing was postponed to October. The three are charged with their role in the Westgate terror attack by supporting a terror group and being in the country illegally. Gunmen opened fire on shoppers in the busy Westgate Mall in September 2013, killing at least 67 people and injuring more than 150 others. Prosecutors spent more than five years gathering evidence against the accused, partly because more than 145 witnesses offered testimony.