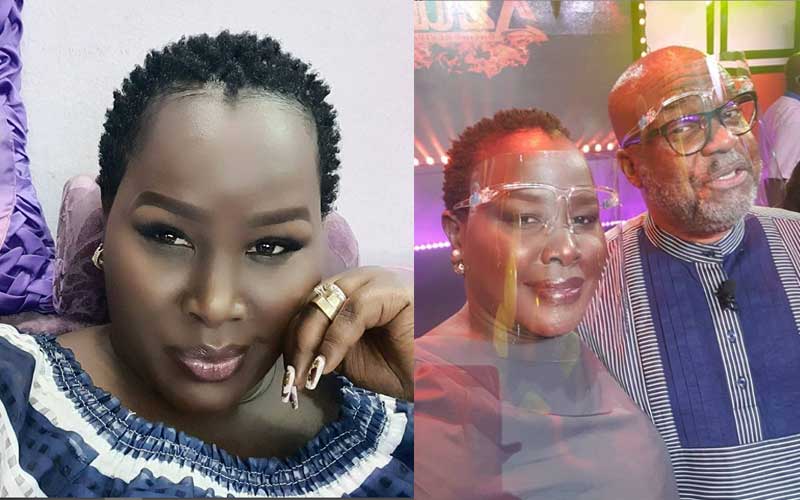 Nigerian-based Kenyan gospel singer Emmy Kosgei's husband, Apostle Anselm Madubuko never holds back when it comes to raving about his wife. The preacher recently took to social media to appreciate his wife's beauty in a romantic post with a beautiful picture of a glowing Emmy.
"My Nubian queen! Blessed and lovely," he wrote, adding "Fierce!" in a separate post.
Emmy posted the same picture with words of affirmation to herself, writing "Fierce. Bold. Intentional. Unstoppable. Focused. I am unapologetic about my faith, I am born again Christian... I believe in Jesus Christ. He is my Lord and personal saviour. Do you believe in Jesus? Open your heart to Jesus today! No matter what you have done, He will forgive you, Jesus loves you!"
READ ALSO: Gospel singer Emmy Kosgei reveals why she married Pastor Madubuko
Speaking in a previous interview, Emmy admitted that it's not a walk in the park being a pastor's wife saying, "It's not easy for a young lady of my age to be controlling activities as pastor's wife. I give God all the glory for placing me among members who love and support me. He loves me genuinely gives me a reason to stay in love with him."
Love life
Emmy and her husband are said to have met at a conference in Kenya and became good friends. The couple exchanged vows back in 2013 at a private wedding ceremony surrounded by friends and family.
"When I was getting into relationships, one of the things I was keen on was that my partner would love me for me. Not my status. Anselm and I understand each other so much, there's no room for conflict or misunderstanding. If we decide to undertake something and I am not pleased, I can voice my displeasure. This is something we cultivated way before our marriage.
READ ALSO: Emmy Kosgei flaunts expensive ride with customized plate
"He would always tell me, 'Talk to me. Tell me anything even if it's silly' and that has helped us. When you meet us you'd think it's a hoax but we really don't fight over things. We communicate a lot and our faith helps. We both just desire to better the Kingdom of God," she narrated.
For their sixth year wedding anniversary, the Taunet Nelel crooner affirmed that marrying Apostle Anselm was the best decision she ever made.
"Happy anniversary to us! God has been faithful! Madubuko I love you always… so glad I said 'yes'," posted Emmy. The singer recently advised individuals interested in marriage not to aim at getting perfect partners.
"If you are looking for a perfect person imagine there's none! Do I have my fellow people under construction here or everyone is at 100%? Please don't kill yourself!"