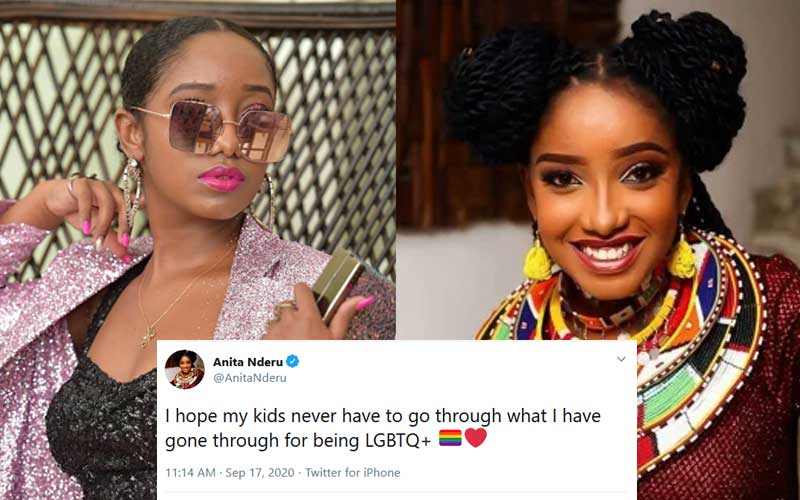 Anita Nderu has sparked a debate on Twitter after confessing to being a member of the LBGTQ (lesbian, gay, bisexual, transgender and queer) community. In a tweet that has since gone viral, Anita said that she wouldn't want her children to go through what she'd gone through for being LBGTQ. "I hope my kids never have to go through what I have gone through for being LGBTQ+", she tweeted.
READ ALSO: Anita Nderu reveals why she doesn't take matatus anymore
Here some of the reactions:
Here we are again.. Fornicators, Adulterous Wankers, Murderers are on Anita nderu. Let her be!
Someones Sexuality should be the least of anyones concern! pic.twitter.com/SKvC69CdRZ

— ???????? CAYVOOH???????? (@Iamcayvooh) September 17, 2020
Then why post about it on a platform where we make everyone's business our business? — selena israel (@selenaisrael77) September 17, 2020
WTF does this even mean ?? — zubeirdarfalla (@thezubeir) September 17, 2020
It's your life no one has a right to try dictate to u Anita ? — Chris Kirwa (@chriskirwa) September 17, 2020
Why are people ignoring the fact that the B in LGBTQ stands for bisexual . Bisexual women can have children , lesbians can have children too via IVF , also being attracted sexually to females does not mean one hates men. ????

— SheTalketh???? (@deedilocks) September 17, 2020
READ ALSO: Anita Nderu speaks after backlash over controversial cooking show episode
Two months ago, Anita Nderu found herself on the receiving end after hosting two gays in an episode of her Overdressed Cook YouTube show. In the 18+ rated episode shared on her IGTV, Anita and her two hosts; Victor Maish and Romeo the Bossy were seen whipping up an eggs recipe.  It was not long before keyboard warriors pounced on the TV presenter and a cooking oil company whose product appeared on the show for allegedly promoting homosexuality.  In response, an unapologetic Anita explained that she supports the LGBTQ community and that every human deserves to be loved.
"I will never be bullied into silence. As human beings, we have the right to refuse to be defined by what other people think rather we must define ourselves. As people, we should celebrate our differences, encourage authenticity and wonder at the diversity of humanity. We all have a right to love and be loved however and whenever."