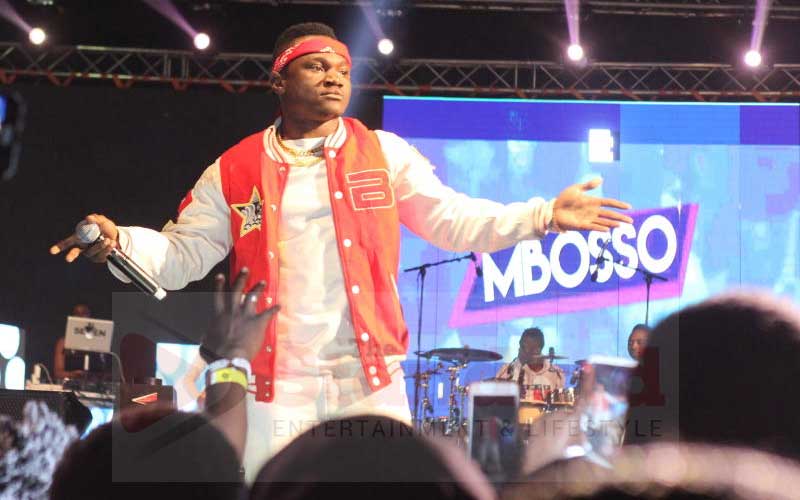 Mbwana Yusuph Kilungi better known by his stage name Mbosso has opened up on a condition he has been trying to hide from the public. Mbosso revealed that since childhood, he's been experiencing hand twitches that prevent him from having a firm grip when holding objects.
"So the other day I was being interviewed on Wasafi Radio and I spoke about the problem I had with my hands, the twitching. You won't believe that over 50 people came to my DM to suggest remedies that I could try out and I am so grateful," he said.
Mbosso admitted that the condition has affected his social life as he sometimes declines invitations to eat in people's houses for fear of breaking cutlery and embarrassing himself. The singer's efforts to find a cure are yet to bear fruit.
READ ALSO: Mbosso did not inherit Donna's car, says Diamond Platnumz in video
"You could invite me to your house and prepare a meal for me and I end up leaving without eating because I feel bad sharing my condition with people. It just reaches a point you get scared of doing things in front of people. I tried seeking treatment from different places but most responses I got killed my spirit. Some doctors said it was hereditary and that I should embrace it and learn to live with it. Growing up, I used to be very clumsy and had no control of it. I broke a lot of utensils."
The singer said that he preferred keeping his condition to himself but curious netizens put two and two together and he was prompted to clear the air.
"The reason I am speaking about my condition is because I was asked to talk about it. People started noticing and I couldn't keep it myself anymore so I had to clarify. My closet relatives know; my parents, my boss and the people I live with know."
'Why I love Martha;
Touching on his healing process after the demise of his baby mama Martha, Mbosso said he still misses her to the point of dialling her number hoping someone will pick up.
READ ALSO: It's stupidity- Mbosso on Kenyan who traveled to Tanzania to marry him
"I still have Martha's number. I haven't deleted it and I will never delete it. I sometimes get myself dialling it for no reason. It so happens that every month around dates 9, 10, 11 I get a really weird feeling and my mood just changes. Even as we speak, we are only left with two days to mark her first death anniversary."
Asked to explain why Martha was so dear to him, Mbosso responded said "Martha was very special to me because the relationship we had is different from any other I have been in. Martha loved me for me. So much so that she protected our relationship and hid it from anyone that tried to come in between us. Martha supported my music but never showed me openly that she did. She could go to an event and pay the DJ to play my songs only throughout the event.
"Martha was really spiritual and even though we were from different religions, we were brought together by the harmony and peace she had. We used to argue and reconcile, so many times but at no point did we end our relationship completely. I loved her, I still do and I think about her every day. When I am praying, I pray for her too."