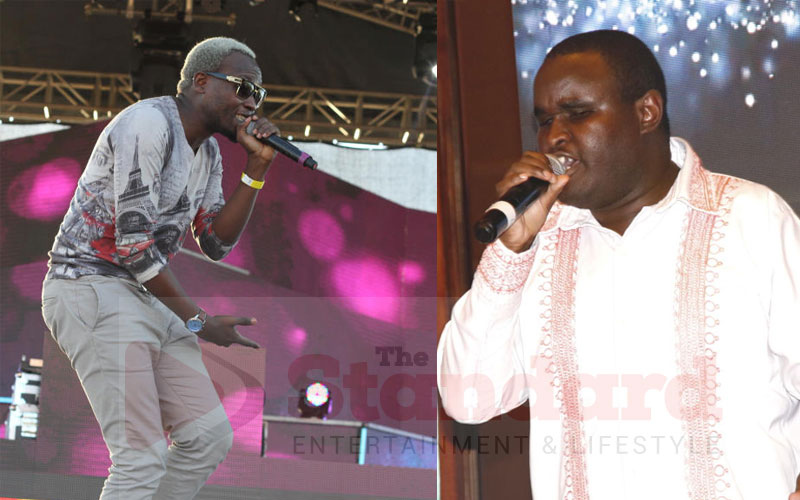 Kenyan gospel singer Dennis Kariuki alias Denno has opened up on his past rocky relationship with fellow singer Daddy Owen after their popular collabo, Mbona. The singer cited lack of payment as the cause of animosity between them. Denno, who initially accused Daddy Owen of taking advantage of his talent for selfish gain, claimed that he depended on the Vanity crooner to help him grow his gospel music career but ended up feeling used.
"All I wanted was to join the music industry and so we did not agree on the terms of the money and at first, it was not an issue. Initially, I felt used and my work taken advantage of and even regretted why those who helped me join the industry would not teach me the ins and outs of the industry," he said.
The Safari singer admitted to almost falling into depression as the row between him and his music counterpart escalated.
READ ALSO: Gospel musician Denno ties the knot in beautiful ceremony
"Daddy Owen was used by God to bring me into the limelight but at some point, life became hard and I almost fell into depression. I was very mad at Daddy Owen. Anytime he was around me, I used to feel the hatred," added Denno.
At the time of their clash in 2015, Denno confided in former gospel singer Bahati telling him he's not received a cent from Daddy Owen despite their song doing well and was contemplating quitting the gospel industry. Taking to social media, Bahati called out Daddy Owen demanding compensation on behalf of Denno while asking Kenyans to financially assist the singer. Not long after, Denno denied receiving any royalties from the 2012 collaboration after documents from the Music Copyright Society of Kenya (MCSK) surfaced showing details of payments made to him. Responding to the allegations made against him, Daddy Owen said he'd visited Denno and settled the tiff
READ ALSO: Bahati makes grand pledge, vows to alleviate Denno's plight
"I have been seeing the exchanges online and as a sane person, I decided to go face the brother. The whole family (Denno's) and I had a meeting where we settled everything or so I thought. Despite everything, I will not hold any grudge against anyone because I have been in this industry long enough to know that these things happen," he said.
The singers buried the hatchet and gave their friendship a second shot with Denno saying "Owen came home and I opened up to him all my issues with him, we solved and we are good friends."