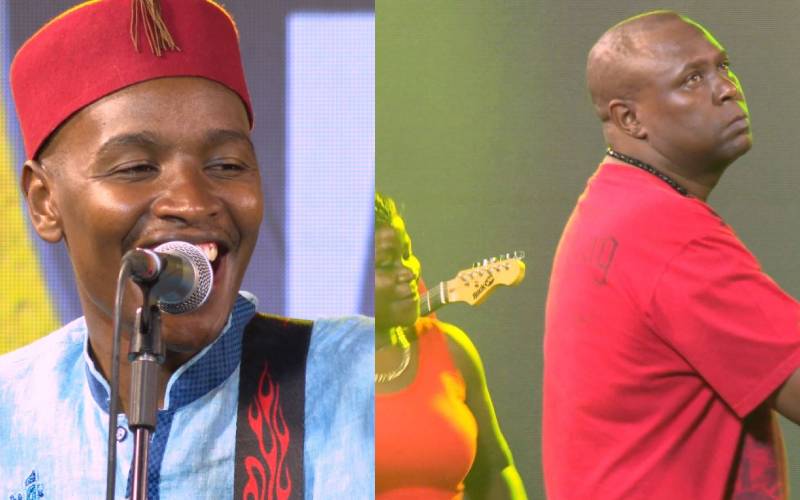 There are three big music sounds in Kenya; four if you push the debate. And it is nothing to do with the snap-shot Kapuka, Genge, and Gengetone. Spare us that for now 'peeps.' Ohangla, Benga, and Mugithi are the indisputable Kenyan music genres, officially so. Add Taarab to that, and we can start defining what the Kenyan music beat is. It sounds like a story for another day, right?
And so when it was announced that Benga's finest and arguably the brains behind the Eastern Benga sound Ken wa Maria would share the big stage with firebrand Mugithi star Samidoh, it wasn't just going to be a clash of territorial musical ego. It was a sensational battle of the minds and generations among fans who love both genres equally. Besides, the Saturday virtue concert, one of the 47 Million Reasons campaign installments, airing on Standard Group Plc entertainment platforms was not your ordinary concert. It was a much-anticipated affair right from the start when the two artistes met face-to-face during rehearsals.
Unknown to many, Samidoh is a police officer by day and musician by night. Ken wa Maria, a Ph.D. holder, is not only a musician but also an established real estate investor and established politician. Muchoki Ndirangu, Samidoh's real name, comes with modern-day swag that has been defined by his dressing style and stage presentations. This is evident in some of his latest hits, such as Murata wa Ngai, Ihuha-Wendo wi Cama and Mumbi. Ken wa Maria, also known as Kennedy Wambua Nguze, is a seasoned instrumentalist, composer, and international repute singer. Thanks to their wit and style, their music cuts across ages and ethnic settings, a factor that has redefined the once 'old man's rhythm' into mainstream music accepted by the new generation. They now earn big cash through YouTube numbers and other subscription digital platforms.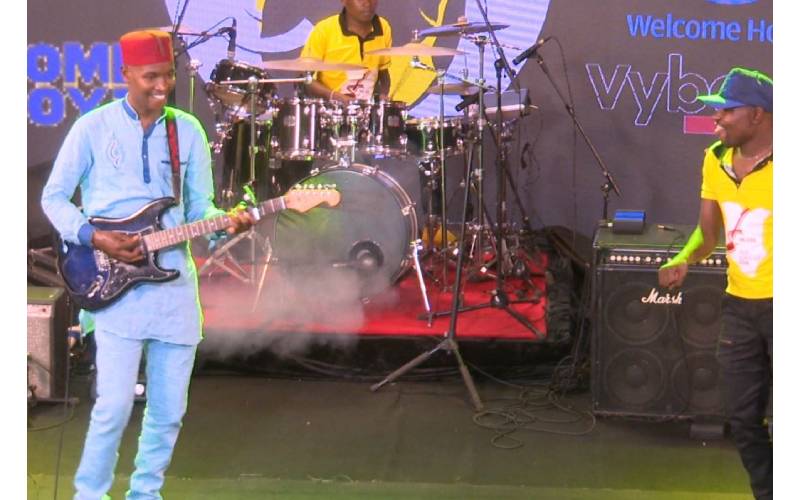 In this defining moment, Samidoh was the first to swing the sling. He did not disappoint. Dressed in his iconic traditional fur beret, a silk white African lingerie with shades of blue and matching shoes, the 30-year-old father of two strummed the rhythm guitar, giving his band the cue to start their thing. Humble as they come, Samidoh charged fans up, his music beat moving from tempo to tempo with every song. Occasionally, he would smile and give shout outs to his followers. They were fanatically charged as they cheered on through real-time comments streamed in hundreds via the Standard Group online platforms. He performed his hit songs such as Wendo Maguta, Wendo Na Urimu, Niwathire Naihenya, and Wendo Wi Cama ft.
ALSO READ: Must watch! 47 Million Reasons bonanza to premiere this Saturday
Then came the stallion from the East, Ken wa Maria. By the time he was walking to the stage in a youthful branded red T-shirt and rugged jeans, his band had already kicked the beat – the female dancers wiggling like obsessed lovers. They all danced rhythmically, and fans got wild as the man of the moment gave it his all. 'Fundamentals' was his ignition key, then Syindu sya Mutongoi (Ndanu), a 2014 big sound to the drive before Kelitu Mbithe, a love ballad, and Wakatimba Pumbafu, a lyrically spiteful song on cheating lover, accelerated things.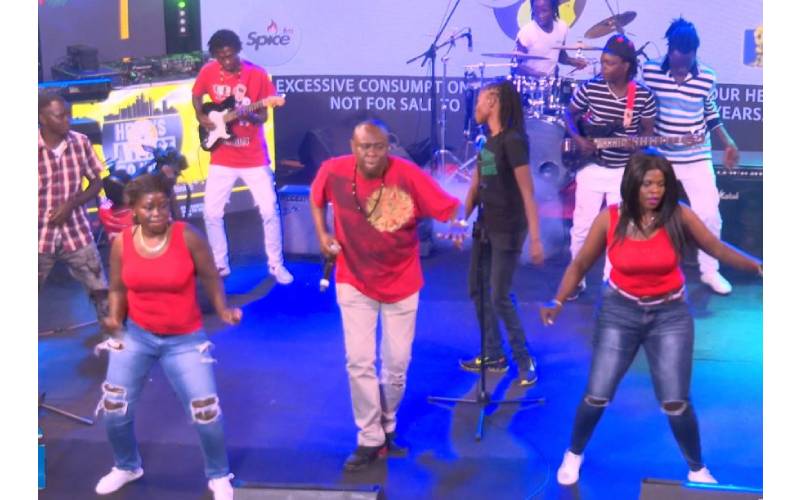 "Please (President) Uhuru, open the clubs for us. This is what we are missing," wrote a fan, a comment that got dozens joining the cue in calling for the ban on clubs and public performances to be lifted.
The two-horse race had been a sure bet, a thrill with no clear winner but one that satisfied the yielding fans, many of whom had missed such a show since corona stopped the beat. The concert was on the spot in fulfilling the campaign's mission; to inspire and unite Kenyans during this Covid-19 pandemic.
"We all know that after the 'lockdown' artistes could not perform. We know that a lot of artistes whose livelihoods were driven by the work and the art they deliver was affected because gatherings were banned. And, with that went the earning power and earning capacity of these artistes. When you think about it, the 47 Million Reasons brings home a couple of things (and) the first one is to bring a smile and a cheer to the 47 million Kenyans," Standard Group PLC Chief Executive Officer (CEO) Orlando Lyomu said during the kick off of the campaign as he expressed optimism that the pandemic would soon pass.
ALSO READ: Samidoh: Man of the moment
"Us Kenyans have always rallied together. The 47 Million reasons is another opportunity for us to come together and cheer up each other, bring a smile to each other's faces, support each other and while in that process start rebuilding what is left of our businesses, what is left of our jobs what is left of our environment - because the pandemic will surely pass. he noted, giving hope as he thanked the artistes, partners, the main one being Tusker, as well as the team behind the production of the show."
Related Topics