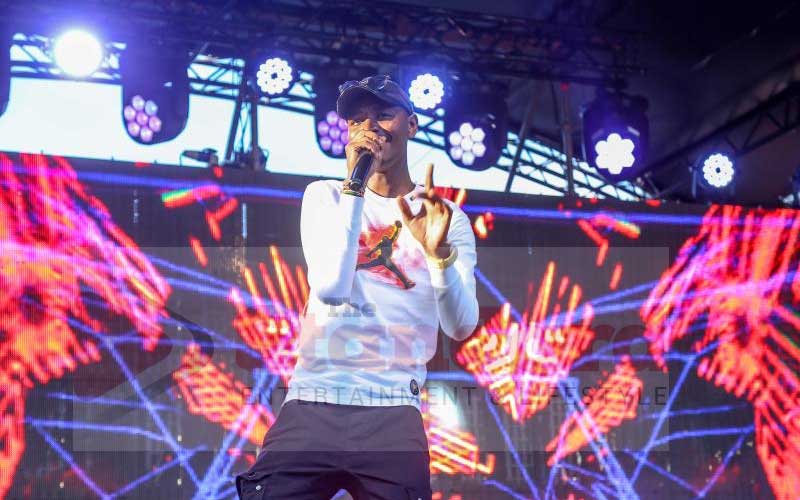 Standard Group plc. in conjunction with Tusker rolled out a virtual musical masterpiece extravaganza two weeks ago. With venues and bars on lockdown across the country, every music lover should all be smiles at the moment.  The biggest virtual musical burlesque in Kenya is aimed at celebrating all the 47million Kenyans and give music lovers a taste of the real medicine, music.
The campaign kicked off with star performances from award-winning boy band H_Art the Band and Jean-Pierre aka Kidum, who thrilled the invincible crowds for a whole hour. The second episode saw the dynamic duo of Wyre and Nazizi belt out some old school Necessary Noize Vibe while JuaCali brought his foot forward with the best of Genge. Each Episode comes fully customized with their respective themes and this week's theme is Cultural Diversity. Are you ready for this?
Right now, the hottest or do we as well say the most hyped Mugithi musician in town is Samidoh is set to bring it down. This is the man who will be sharing the stage with Benga maestro, Ken wa Maria, the hottest star from the East. On the decks will be the super talented Radio Maisha's DJ 2one2 – arguably, the coolest radio deejay right now.
READ ALSO: Samidoh- Meet Kikuyu artiste who brought the house down at Koroga Festival
This man Samidoh: guns and guitars
Born Muchoki Ndirangu, Samidoh is not your everyday artiste. During the day, he is a police officer and by night, he keeps you on your feet belting out Gikuyu-laced tunes. He is without a doubt the reigning new-age Mugithi king if going by the electrifying performances he gives are anything to go by.  The humble musician started out as a backup singer for Kamande wa Kioi in 2009 but few years down the line he ventured fully as a solo artist with his debut  song Ndiri mutwe mwega (I Don't Have a Straight Mind), which has so far garnered over 2.6 million views on YouTube.
Since then, he has released several other songs. Some of his popular songs include, Ihoya Ria Samidoh, Kairitu Gakwa, Niwe Ndarathimiirwo, Tuhii Twitu, Riari Itheru,  Wendo Maguta,  Wendo Na Urimu, Niwathire Naihenya, Wendo Wi Cama ft. Joyce Wa Mama, Murata Wa Ngai, Vijana Tutokelezee ft. Katempa and  Kanua Njohi Ini.
READ ALSO: I dropped out of school to become a herder – Samidoh opens up
His latest single, Mumbi premiered on September 8, 2020. At the time of going to press, the video has garnered over 350,000 views on YouTube.  His journey has been on a meteoric rise, which has seen him share the stage with who-is-who in the entertainment industry despite cutting a niche with his Gikuyu mastery.  Samidoh, the third born in a family of six boys, was brought up in a humble family. His father died when he was three years old. Soon after, they were kicked out of their Subukia home by his father's brothers. His humble beginnings did not dim his star  as he managed to conquer all that despite dropping out of school due to hardship. He later actualized his education dream when he joined the Kenya Polytechnic University to pursue a diploma course in Business Information Technology.
 The 30-year-old father of two easily fills up stadia without much effort, and his music videos on YouTube enjoy unrivalled feat amongst his peers.