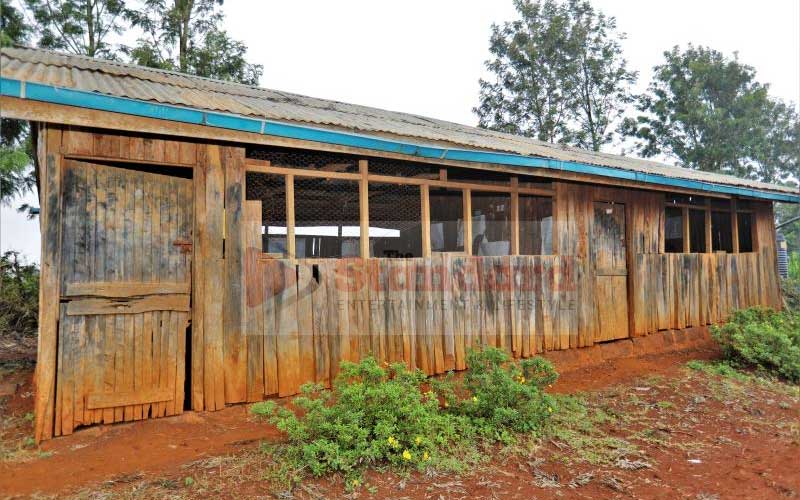 A school that has been using abandoned horse stables from the pre-colonial period as classrooms is set to get a face-lift.  For over 40 years, abandoned horse stables have served as classrooms at Muringato Primary School.
According to Mwangi Wanderi, a resident of Muringato, the school was for the settlers' plantation workers and was dubbed Munyeni Intermediate School to teach Africans basic English and arithmetic. The plantation is part of the land on which the government purchased to establish a vocational training centre, which would later become Dedan Kimathi University of Technology (DeKut).
"There was no real learning taking place at Munyeni; it was more like a day care for the people working in the coffee plantation during colonial times," Wanderi explained.
READ ALSO: Chickens roost in Kenya's empty classrooms amid COVID-19 shutdown
This was a practice among white plantation farmers in Central Kenya to start schools on their land for their African workers. With no secondary schools in the area, Muringato is the only public primary school serving the area. An administration block made out of iron sheets stands at the corner of the school with a makeshift kitchen made out of old timber in the back of the office. A modern toilet block built through the National Government Constituency Development Fund stands forlorn and out of place in the institution. Currently, the school is undergoing a transformation as the NG-CDF has started constructing eight new classrooms to replace the dilapidated structures. Nyeri Town MP Ngunjiri Wambugu said the school could not be renovated because the facility was beyond refurbishment.
"We have had to build the school from scratch, which means constructing new classes and buildings. It has a population of 350 pupils and they have candidates who perform well in national exams," Wambugu said. DeKut will contribute Sh2 million to the project. Vice Chancellor Kioni Ndirangu said the school serves children of staff working within the university.