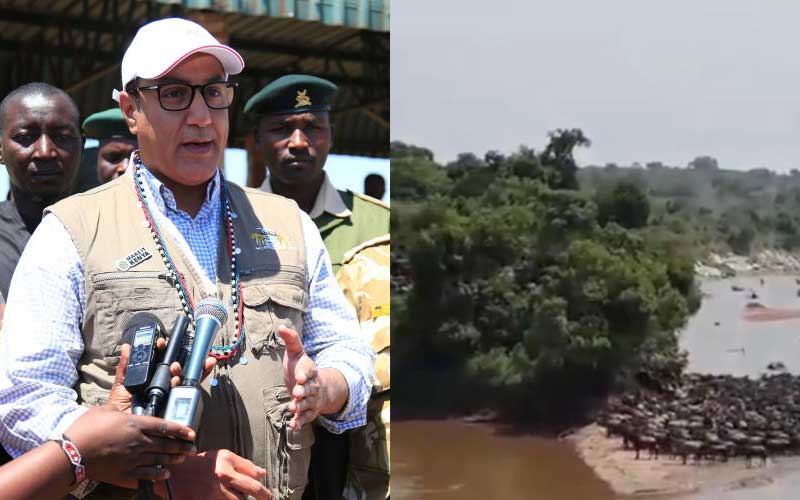 A tourist camp along the Mara River in the world-famous Masai Mara Game Reserve risks being demolished after workers were filmed blocking migrating wildebeests. The video clip showed thousands of wildebeests trooping across Mara River from Tanzania's Serengeti heading back in fright and colliding with an oncoming herd. It is feared some wildebeest may have died because of the stampede. The video was shot by tourist Anne Taylor. Following public outrage, Tourism Cabinet Secretary Najib Balala has now directed the Narok County Government to remove the camp for the gross violation of park rules.
"This is outrageous. Staff from a camp on the left as you look at this photo are forcing the wildebeest to turn around and go back into the river - and into the oncoming herd. I wonder how many died in this melee," posted Ms Taylor on her Facebook page.
READ ALSO: Wildebeest migration- Eliud Kipchoge to spend this weekend at Maasai Mara
She added that she had received details of the camp but was waiting for confirmation before naming and shaming it. The camp along the Mara River is situated in Tarek area just about 100 metres from the river and along a route used by the migrating wildebeest.
Ministry order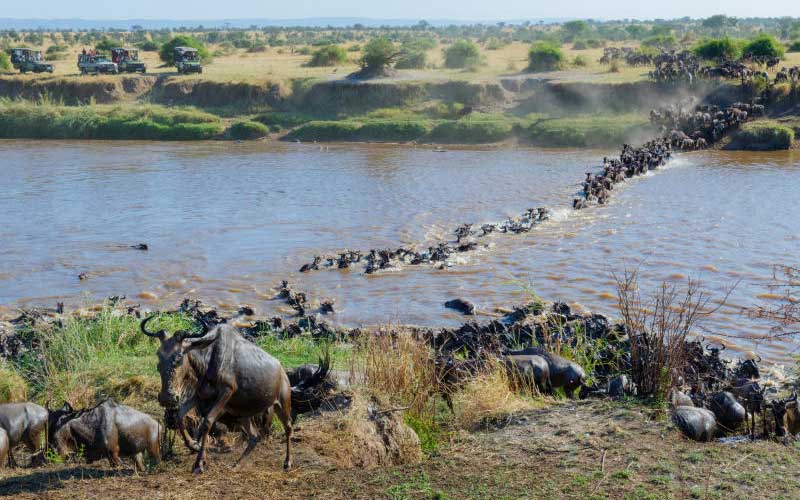 The camps and hotels in the Mara were either approved by the defunct Narok County Council or the county government. CS Balala posted on Twitter and Facebook that he had spoken with Governor Samuel Tunai on the incident and was hopeful that the camp will be removed.
"I have discussed with Governor Tunai about the camp built beside the Mara River, blocking the wildebeest crossing. It is disturbing and we expect the governor to take action and have the camp removed," he posted.
Tunai, who recently banned the establishment of new tour hospitality facilities in the park, pledged to address the matter. "I am dealing with the issue," he said.
READ ALSO: Balala revokes appointment of Pauline Njoroge over Facebook post
Balala at the same time reiterated the need to finalise the Masai Mara Game Reserve Management Plan, which he said will not only enhance biodiversity but also protect wildlife migratory corridors from what he termed greed. Balala, while speaking at the Mara a month ago when he launched the Lions and the Spotted Hyena Recovery Action Plan, said it was high time the Mara Management Plan was established. But the local community has resisted the plan, claiming it was a ploy by the national government to take over the park. Balala had also called for an audit of all the camps in the Mara amid fears that unruly behaviour by tourism players was on the rise.
Last month, three tour companies were banned from the reserve for a month for flaunting park rules by allowing tourists to alight from the vans to film the ongoing wildebeest migration spectacle. Ms Christine Koshal, the Chief Park Administrator, warned that the three tour companies had exhibited unacceptable behaviour.