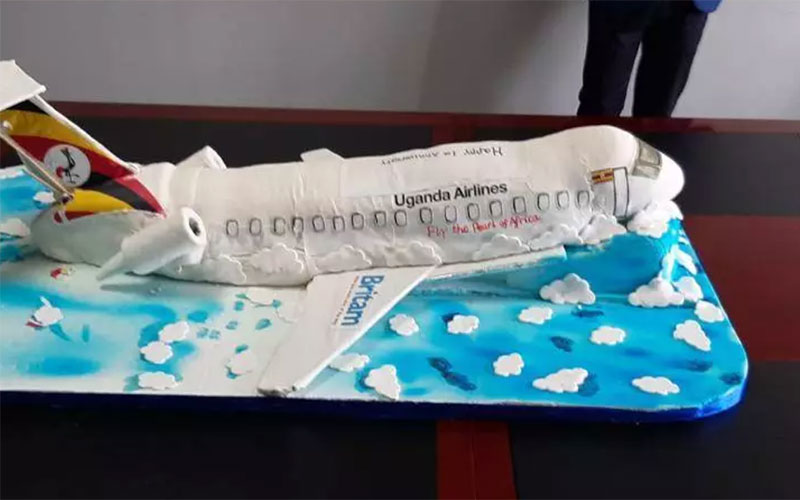 Over the weekend, social media was awash with photos of a cake made by Britam to celebrate one year since Uganda Airlines returned to the skies. The cake, baked in the shape of a plane became the brunt of social media trolls, with some social media users likening it to a whale as others said it looked like it's breathing.
This Uganda Airlines anniversary cake was baked by a tailor. pic.twitter.com/mDsv3EcVVp

— Magunga (@theMagunga) September 5, 2020
Kenyans have seen our Uganda Airlines cake pic.twitter.com/stO1KEJGAx

— JONAM'S PRINCESS???????? (@AtimCharlotte) September 5, 2020
Uganda Airlines made a year! The person who baked, and those who cut the cake should be questioned. pic.twitter.com/2F6QVEHh7g

— Sudhir Byaruhanga (@Sudhirntv) September 5, 2020
That Uganda Airlines cake is what happens when someone says, "We can offer you exposure on a national platform."

— Marcus Olang' (@marcusolang) September 5, 2020
Mayday, Mayday, Mayday... Then the cake plane crushed on the way to Uganda Airlines offices ???????? pic.twitter.com/xufwopQFEy

— Abdu Dilshan Wasike (@WasikeAbdu) September 4, 2020
The cake that was deleted by Uganda airlines ....you will learn not to shop online next time ???????? pic.twitter.com/PBC7ypfRBv

— Unemployed youth (@NamanyaRender) September 4, 2020
What Uganda airlines ordered for VS what they got ???????????????????????????? pic.twitter.com/Wy7petgczH

— Faisal (Bob Daddy) (@PyeparFaisal) September 4, 2020
Breaking news: One is the Uganda Airlines Bombadiers has crushed ???? no one was hurt. Just some sugar spills. pic.twitter.com/ExS98cduY4

— Nahwera (@daphiena91) September 5, 2020
Making amends
Following the constant trolling, Britam is seeking to make amends and has launched a baking competition 'because we did not get it right the first time'.
"We tried baking a cake and fell flat on our faces! You may have seen unflattering photos of what was our attempt to celebrate Uganda Airlines' First Anniversary circulating online…Well, we agree with a majority of you who said the cake did not do justice to this massive milestone and the occasion at hand," read a statement released on September 7.
READ ALSO: Artcaffe advertises competition that pays in coffee, Kenyans react
According to Britam, the will fund the best cake design and the winner will personally present it to the airline. The company will also donate to the winner's charity of choice and while the next four winners will get contracts to bake cakes for charities in Kampala. The submission deadline for the competition is September 9.
During celebrations marking a year since Uganda Airlines hit the skies again, the chief executive officer Cornwell Muleya said that the airline flew over 75,000 passengers to and fro the Entebbe International Airport. Its inaugural flight was operated from Entebbe to the Jomo Kenyatta International Airport, Nairobi.
Related Topics