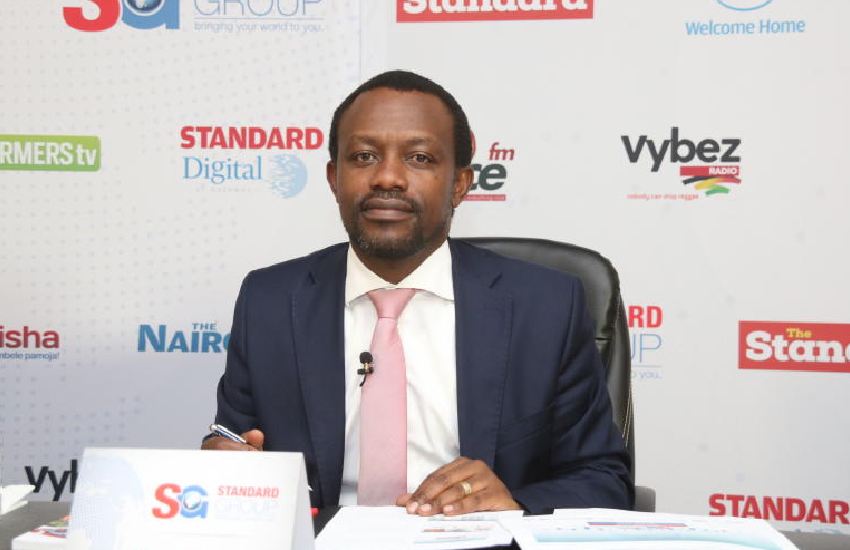 With dozens of Kenyan artistes lined up to entertain millions of viewers in the just-unveiled 47 Million Reasons campaign, the Standard Group PLC Chief Executive Officer (CEO) Orlando Lyomu has stressed the need for artists and media houses to collaborate in enhancing the entertainment industry.
Making the opening remarks on Saturday, August 29, Lyomu said artistes needed the media to anchor their projects as this is the sure way to reach their fans. He noted that even though artistes had the option of launching and marketing their products online, radio and TV stations played a leading role in ensuring musicians reached their target audience.
"I know a lot has been said about media and the role of media (in the present day), and of course you occasionally hear people saying media is going to die. Think about it, media is not just about the Newspaper and the news. I think and I believe the fate, the fortunes and the livelihoods of artistes in this country especially performing artists in the music space are very closely intertwined with the media industry," Lyomu challenged.
"If an artist comes up with a song, where do they go? I know today there is the option of releasing online but where do they go? The most popular platform will probably be a radio station… maybe a video being played on TV platforms, and therefore media has more than just that news element and I think that is why the 47 Million reasons is at home with media pushed by the artistes," he remarked.
Read Also: Must watch! 47 Million Reasons bonanza to premiere this Saturday
Noting that the Covid-19 pandemic had disrupted the business environment with many job layoffs taking place as corporates, in a bid to survive, taking radical decisions, the CEO noted that people's livelihoods, especially in the entertainment industry had been affected. He said that since the government banned public gatherings in March after the first case of Covid-19 in Kenya was announced, artistes' earning capacity was affected.
"We all know that after the 'lockdown' artistes could not perform. We know that a lot of artistes whose livelihoods were driven by the work and the art they deliver was affected because gatherings were banned. And, with that went the earning power and earning capacity of these artistes. When you think about it, the 47 Million Reasons brings home a couple of things (and) the first one is to bring a smile and a cheer to the 47 million Kenyans," emphasised Lyomu as he expressed optimism that the pandemic would soon pass.
"Us as Kenyans have always rallied together. The 47 Million reasons is another opportunity for us to come together and cheer up each other, bring a smile to each other's faces, support each other and while in that process start rebuilding what is left of our businesses, what is left of our jobs what is left of our environment - because the pandemic will surely pass. It is how fast we can get back with life, not as we knew it, but life as we shall know it. I have to be honest, after this, there are a number of things that will never be the same. I would like to urge all of us to support one another," he said as he thanked the artistes, partners and sponsors as well as the team behind the production of the show.
The entertainment campaign, a venture aimed at uniting Kenyans through uplifting music and messaging, reminding them that they have faced this Covid-19 pandemic together and will get through it, together kicked off on a high on Saturday night with performances by award-winning boy-band H_Art the Band and Jean-Pierre Nimbona aka Kidum, the celebrated Nairobi-based Burundian music star.
Read Also:Why Kidum has 47M reasons to sing for unity
Unique as they come, the show aired on KTN Home and BTV besides streaming live on Radio Maisha, Spice FM and Vybez Radio as well as all other entertainment social media platforms.