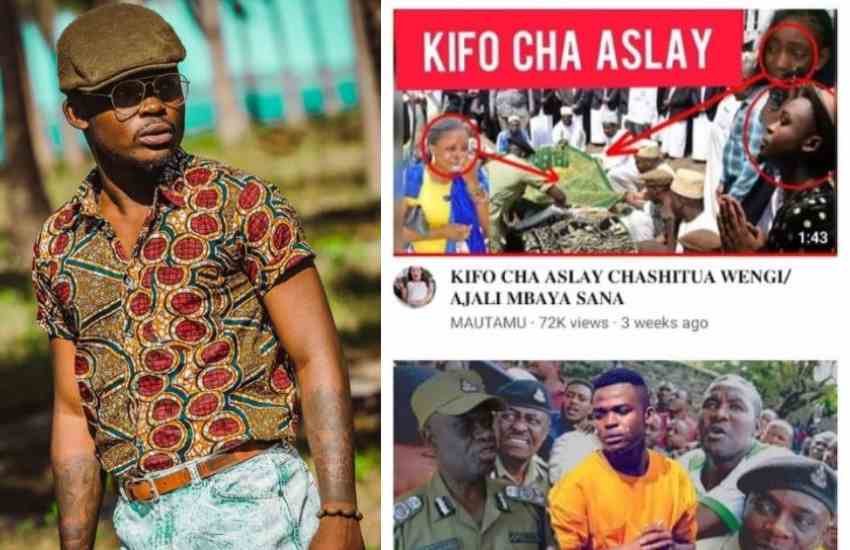 Tanzanian Bongo Flava crooner Aslay Isihaka Nassoro alias Aslay has rubbished a report by a local outlet claiming he was involved in a tragic car accident. Alive and well, the singer took to social media and slammed the media house for perpetrating a hoax by disseminating fake news.
"This is saddening and shocking. How can you wish death and evil on a fellow human being? The perpetrators are ordinary Tanzanians like us who we look up to for news and entertainment as they also earn a living. But some are busy misleading the public and ruining our reputation," he said.
Read Also: Aslay addresses alleged beef with ex-Yamoto band mate Mbosso
The 25-year-old heartthrob further called on the Tanzania Communications Regulatory Authority (TCRA) to take legal action. "I urge TCRA to take action against such media houses that mislead the public. We have faith in you, the police and other authorities to instil discipline. Such reporting disrepute others that are diligently executing their work. I respect all journalists irrespective of the platform but quacks like this need to be outed," he added.
Aslay's love for Kenya
Earlier this year, Aslay launched his EP dubbed Kipenda Roho in Nairobi. When asked why he hosted such an achievement in Kenya as opposed to his home country Tanzania, the Naenjoy hitmaker admitted that the majority of his fanbase is in Kenya.
"I love Kenya; I have many fans here, and people I consider family.  So, I thought let me bring it here first and then share it with the rest of the world as well. I believe this EP is different because it has fewer love songs and more songs with a story and deeper meaning," he revealed.
Prior to the release of the EP, he was accused of not promoting a song he had collaborated with gospel artist Bahati. According to Bahati, Aslay's management was uncooperative. "When two artistes work together, they should be humble to push the song but when one of us decides to act like a star it stops many things. It was a song I loved and wanted to take it to another level. But Aslay's management was uncooperative in terms of revenue shares, how the song would be sold online etc," claimed Bahati.
Read Also: Bahati throws shade at Tanzanian singer Dogo Aslay over 'failed collabo'
In response, however, Aslay insisted that he had nothing to do with the fallout. "I think there were some differences between both managements, and to be honest, they did not explain in detail what the actual problem was. If he is open for collaboration, I'm ready to do it, because the song we did together did so well. In Kenya, I'm keen on working with boy band Sauti Sol. I love their art of doing music," he added.