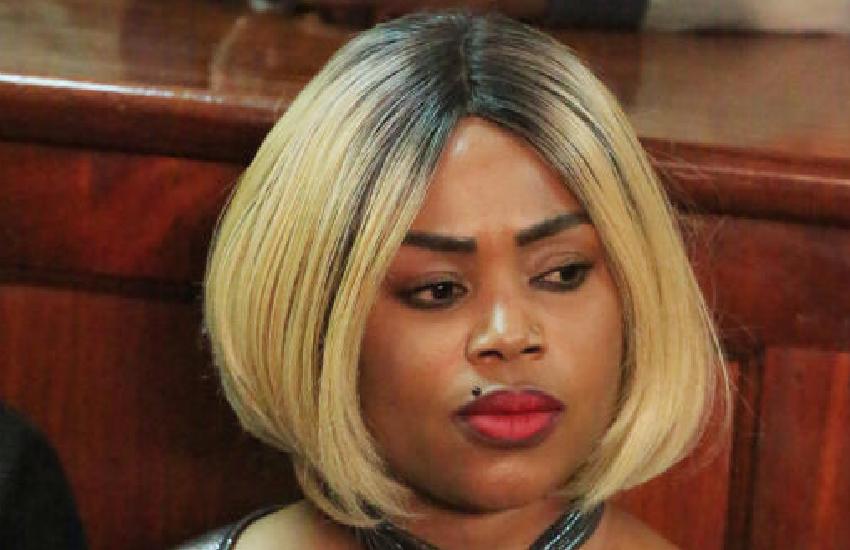 Three members of one family have been ordered to forfeit to the State property worth millions of shillings they acquired using public funds stolen from the National Youth Service.
Phylis Njeri Ngirita, Lucy Wambui Ngirita and Jeremiah Gichina Ngirita's get-rich-quick strategy through defrauding the public has been brought to a halt by Lady Justice Mumbi Ngugi, who ruled that those who profit from proceeds of crime should not be allowed to enjoy the benefits.
Just a few months ago, the three were riding in riches, driving expensive cars and their children were in expensive schools - this is what they are now being denied as the anti-corruption wave bears down on their lavish lifestyles acquired through the looting of NYS.
Read Also: Secrets of Waiguru's hairdresser Josephine Kabura exposed
"Between them, they received approximately Sh400 million from NYS and used some of the money to acquire the properties which constitute proceeds of crime. Evidence shows that on the periods they received the money, they went on a spending spree to hide their theft," ruled Ngugi.
The properties they have been ordered to forfeit to the State include a vehicle, two-acre land in Trans Nzoia, half acre in Naivasha, a quarter acre in Nakuru East, a quarter acre in Njoro and another piece of land in Naivasha, all valued at approximately Sh100 million.
Phylis was also ordered to surrender Sh800,000 in her account to Opportunity International Wedco Ltd to recover a loan she had taken to purchase a vehicle. Even Justice Ngugi wondered how a single family could become extremely rich within a short time unless they were engaged in corrupt and criminal activities.
"Perhaps there are gifted families in Kenya who are entrepreneurs extraordinaire who can in their individual capacities and through their businesses transact business with a State entity in a brief two-year period and get Sh400 million, out of which Sh133 million is paid in a single day," she said.
Justice Ngugi ruled that the three family members and their companies had no capacity to supply goods worth Sh400 million to NYS between 2015 and 2018. She however noted that the three could have been minnows in the entire scheme to rob the public of funds from NYS, and that there must have been a higher person with utmost authority in government who facilitated the plunder of the State agency.
On whether the proceedings for forfeiture were meant to influence the ongoing criminal case against the Ngiritas and other 35 accused persons in the NYS scandal, Justice Ngugi ruled that there was nothing wrong in seeking to recover what belongs to the public.
"Once it is established that the properties were obtained from proceeds of crime then an order of forfeiture can be made regardless of whether they are facing a criminal trial. It does not matter in whose hands the stolen property is found or whether they will be convicted of the crime," she ruled.
Justice Ngugi dismissed claims by the Ngiritas that the forfeiture is a violation of their rights to own property, ruling that they were given a chance to explain how they acquired their wealth but they could not, which led to the conclusion that they stole from NYS.
Read Also: Over 10 detectives raid Ngirita's home, break into septic tanks, sewers
According to the judge, the Asset Recovery Agency (ARA) had satisfactorily demonstrated that the family members received millions of shillings fraudulently transferred from NYS to their accounts within two years.
ARA had, through State Counsel Peter Ngumi, argued that the three family members colluded with top NYS officials to steal Sh465 million that was deposited in their accounts and hurriedly transferred to proxies and they bought properties to conceal the theft.
In one instance, Ngumi submitted that Phylis, Lucy and Jeremiah received over Sh133 million from NYS in a day without supplying any goods or services. For Phylis, the agency said she received a total of Sh57,220,114 through her company Waluco Investments between November 2015 and June 2017.
Her sister Lucy got the biggest amount, Sh317 million through her companies Kunjiwa Enterprises and Ngiwaco Enterprises while Jeremiah through Jerrycarthy Enterprises received Sh87,931,482 between December 2015 and April 2018.
Related Topics