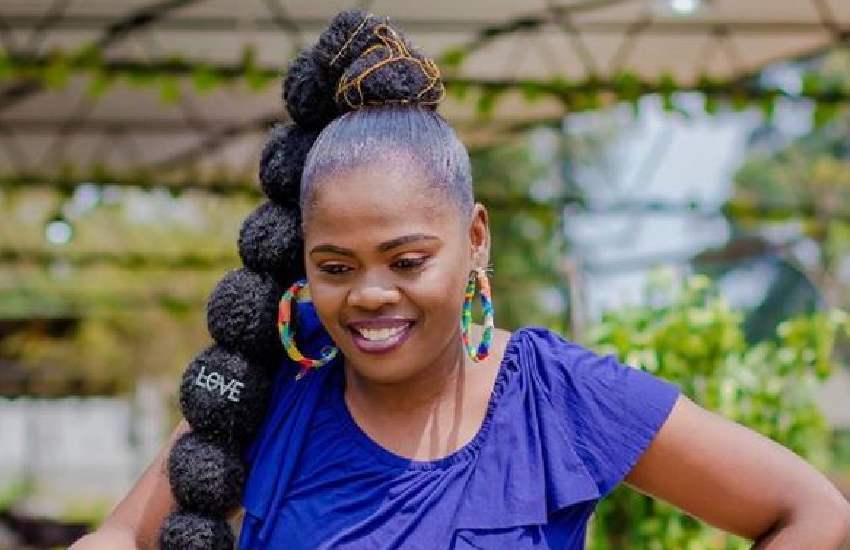 Gospel singer Betty Bayo is pleading with suitors flooding her inbox to be cognizant of who she is, her fans, followers and her stand on marriage, divorce and love. Taking to her Instagram account to lay the ground rules for the would-be smitten lover, Bayo stated that the suitor should be prepared to date a movement.
Bayo explained that she is not one to keep a secret neither is she taking chances with amorous liars and called on divorcees to be outright from the onset as to the status of their past unions.
"To any man in boxing me please note that; I don't keep secret nowadays. I am petty; the last time I kept a secret it dint work. If you're dating me be ready to date me together with my fans, my fans are my spies, you're not dating me alone, you're dating a movement. If you're divorced, ukuje umeuma divorce papers na mdomo," she wrote.  
Read Also:I am done with Kanyari, I'm ready to move on - Betty Bayo
The demand is an update to a list of qualities that she made five days ago. The man, according to Bayo, must; "1. Divorcee/single father (bird of the same feathers). 2. High self-esteem sitaki mtu haja overcome past yet I have. Mimi nisha overcome, no crybabies. 3. Not mama's boy, no. 4. Be a tither in his church, no heavenly thief. 5. Know English, we can't both talk broken English, my fans must see the difference. 6. Love my kids. 7. Vaccinated to cyberbullying kama hana, I will give him a dose; huku tuna survive by fire by force. 8. No shouting or violence, I love peace. 9. Not too serious, I don't want a boring life. 10 (Bank) statement and original ID," she outlined five days ago.
Setting the record straight on divorce, the Hivi Ndivyo songbird reiterated that no one likes separation but circumstances force many couples to pull apart. "Kwa wale watu wa God hate divorce, please tag a lot of other things God hate. Who loves divorce anyway? The secret of many people who are divorced, that they don't tell, is that they reached a point in life where they only had two options; divorce paper or eulogy. Ata kama ni wewe unge chagua gani?," she added
A message that echoed a post she shared early in the year where she narrated how leaving abusive relationships was hard for her. "A few years ago, I used to live in fear I was afraid of almost everything. I feared being gossiped, I was naïve, many people took advantages of me I would say sorry even when ni Mimi nmekosewa, I dint know how to say no and speak for myself, Job 3:25 for the thing I feared has overtaken me. I feared being gossip negatively I stayed in abusive relationships because of fear, I would stomach openly humiliation coz afraid of what people will say, I got into depression was losing my mind but God picked me up again," wrote the singer.
Her hesitance, perhaps, informed more by her break up with an unnamed man who dumped her after making her jump through several unattainable hoops.  "I once fell in love with a young man I was sure he will marry me. I loved and adored him, he claimed he loved me too and he would marry me if only I was light-skinned (rangi ya thau) I decided to remove my legs from the sack, mimi huyoo River Road," stated Bayo.
Read Also:Betty Bayo regrets moving in with a man she 'barely knew'
She went on: "The next thing he told me he will marry me if only I was a bit taller. My friend, I used to walk in high heels, throughout, to make him happy. Along the way he dumped me leaving me looking like a confused chameleon…Yellow face, black legs, blue hands, I had no choice than to go back to factory setting".