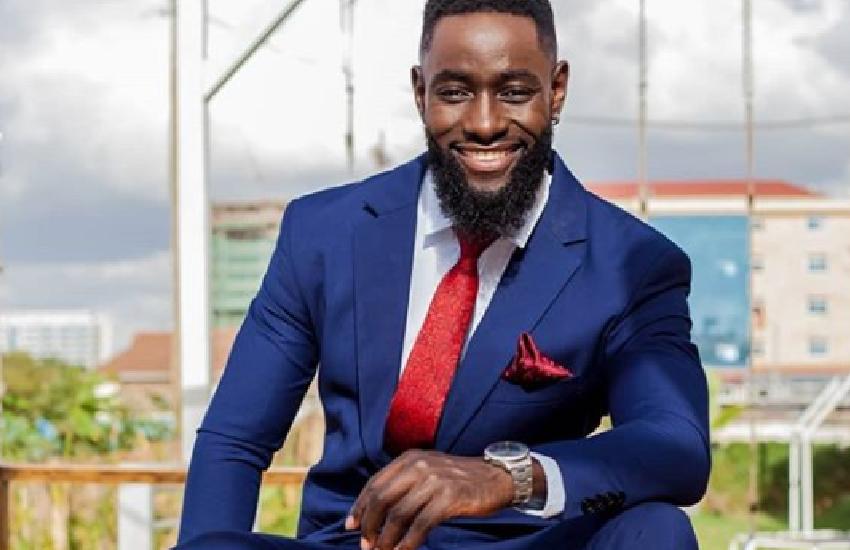 Adored and admired by many secret lovers, some of whom have shown affection for him in public hoping to win his heart, Cula Budi, the Kenyan top model who took the world by surprise two years ago after scooping the Mr World Africa title is officially out of the market, you are hearing it first from Standard Entertainment & Lifestyle.
Today, the hunk who has been gracing advertisement slots both on TV and billboards has officially tied the knot with his girlfriend and baby mama of many years, Wendy, in Diani, Kwale County. The white wedding affair - with only 35 guests - has family members and only a few close friends in attendance. The bride is hardly known to the public but comes from a prominent political family.
Read Also: Former Mr Kenya Cula Budi marries long-term girlfriend
A closely kept secret that Standard Entertainment & Lifestyle has a close eye on, the glitz affair comes barely two weeks after the couple held yet another event, a traditional wedding whose news we also broke. Today's is a beachside ceremony whose details have been scanty but whose full details we will unveil as they unfold.
Speaking to Standard Entertainment & Lifestyle last week, Budi, who is also an actor intimated that the wedding plans were ready as he revealed that theirs would be a white intimate affair with little sideshows to write about. It was then that he said he was shocked as to how photos of their traditional wedding had leaked to social media as rules, as they are now, were that nobody should be allowed into the premises with a camera or a phone - besides the official photographers.    
"I am surprised to see photos of the event on social media," Cula told Standard Entertainment & Lifestyle during an exclusive interview. "Considering it was an intimate event, it's just funny how those photos leaked," he continued.  The photos from the event that flooded the internet were those of him and his fiancee wearing broad smiles at the event accompanied by their child whom no one knew about before this function.
As expected, these photos elicited reactions from the ladies who are some of his biggest fans as they 'cried foul' that their secret love was no longer in the market. "All in all, I am happy. This was just but my traditional wedding and I couldn't be happier that it happened," he went on as he revealed that the big day that will be a purely white affair would be coming soon.
Read Also: Cula Budi admits intimate moment photos leaked, reveals white wedding plans
The Fitness Wars founder represented the country last year in the Philippines at The Mr World finals. Being a public figure, the hunk has become popular for appearing in adverts and also taking acting roles in TV shows. Ladies admire him for his good looks and his traditional long beards. Many have been eying him and it was only until last weekend that they discovered he has been in a serious relationship. 
Keep it Standard Entertainment & Lifestyle for more on this and all other breaking entertainment news.