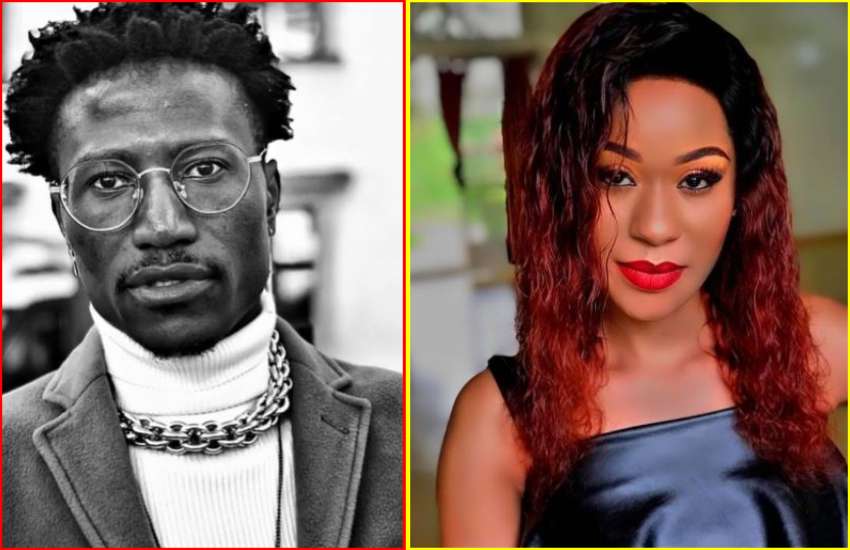 Popular Kenyan rapper Henry Ohanga, known professionally as Octopizzo, is on the spot for allegedly buying YouTube views for his latest track Nikupate. This is after netizens noticed that the song's views were declining by the day, a week after it garnered over 854,000. As at the publication of this article, views on Nikupate now stand at 454,368.
Angry social media users including notable celebrities joined in the discussion with some of them admitting that some personalities purchase views for clout. Responding to a screengrab of Octopizzo's declining views, fast-rising female rapper Natalie Florence Kutoto alias Noti Flow expressed her disappointment in him.
Read Also: Noti Flow getting naughty with male fan after ditching Mustafa
The Foto Moto crooner explained that she once reached out to the self-styled Namba Nane rapper for a collabo. "He turned down my offer for a collabo yet he buys views!" she wrote. Noti Flow's hard-hitting post echoed that of popular social media sensation Xtian Dela who had earlier also questioned the rapper's Instagram growth.
"I spoke about it on my LIVE people thought it was a joke. Go look at his Instagram as well, he responds to all the comments to make it look like he has many comments. He also posts videos only to make it look that his posts are viral. How can you have millions of views on a song and people don't know it?" wrote Xtian.
Read Also: Xtian Dela talks of his hard earned social media fame
Weighing in on Xtian Dela's thoughts was Canadian rapper and songwriter Jay Honest who revealed that after intense research he too has come to a conclusion that celebrities indeed buy views online. "I don't want to be rude but a lot of big Kenyan artists buy views, I did my research but a lot of people around the world do it too," he said.
 Octopizzo responds
The Zikishika crooner remained tight-lipped throughout the online trolling that dragged on for days and only responded once everything had died down. Taking to social media to address the backlash, Octopizzo, who not only threw shade to critics', but also refuted claims that he bought YouTube views and assured that the saga was under control.
"I haven't been around but I hear Fatboys are still talking. Even the dancers are giving the crop top sisters a hard time. Let me wake Chebukati and ask him to play with the servers even more so that they know what playing dirty means and they can have something to talk about. This time the views will jump to 10million in a day and they'll talk till they get tired. Also, I've already found the people that have been playing with my views," he said.
Read Also:Ethics's message to Octopizzo after declining to feature in their album
This is however not the first time the rapper has been put on the spot for allegedly purchasing views for his songs. In 2018, Octopizzo's song Oliel raised eyebrows after it accumulated about 25,000 views in the first few hours after upload before the numbers rocketed to a whopping 1.4 million views in under 24hours. Upon confrontation, the rapper dismissed claims that the views were fake.