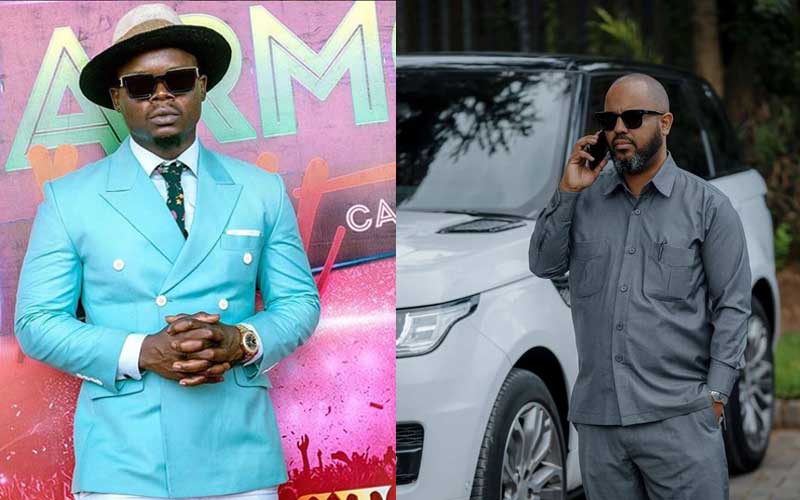 Diamond Platnumz's manager Sallam SK has finally explained why he snubbed Konde Music Worldwide's Harmonize at the funeral of fellow WCB manager Babu Tale's wife. Speaking in an interview with Refresh, Sallam said he has no bad blood with Harmonize and people only assumed he hates Harmonize after he exited WCB. The WCB manager insisted that there is no feud between him and the former WCB signee. He mentioned that he has never had a problem with the Atarudi singer adding that they worked well together without any incidents during his stint at the record label.
READ ALSO: Sallam Sk shoves away Harmonize's hand at funeral
"I did not have a problem with Harmonize at all. Because as I have explained before, I was the first person to take him to Nigeria, UK… and every other place we went together we got the job done without any issues," he said Sallam further revealed that since Harmonize's exit from WCB they have met on several occasions but the owner and CEO of Konde Music Worldwide has never once said hi to him.
"I think the problem is that all of this took place in a burial, they thought I would mind because he (Harmonize) left the label," he added.  However, Sallam insisted that he was not going to pretend to greet Harmonize this time round just because they were in public and people were watching. He revealed that Harmonize had never greeted him for about three years, even before leaving WCB saying: "To clarify, Harmonize has never greeted me for about three years now even from when he was at WCB. So, I never saw the need for a handshake that particular day yet has snubbed me on many occasions."
READ ALSO: Diamond Platnumz's manager tests positive for coronavirus
Sallam who recently recovered from Covid-19, narrated the numerous times Harmonize snubbed him saying: "We have bumped into each other at the airport he snubbed me, at the bank, he also snubbed me. Many times, we met in the office he still snubbed me. We went for a show together in Oman, he yet again snubbed me. So, I did not see the importance of a handshake. Why should we lie to the public? I always say that I am not a pretender."