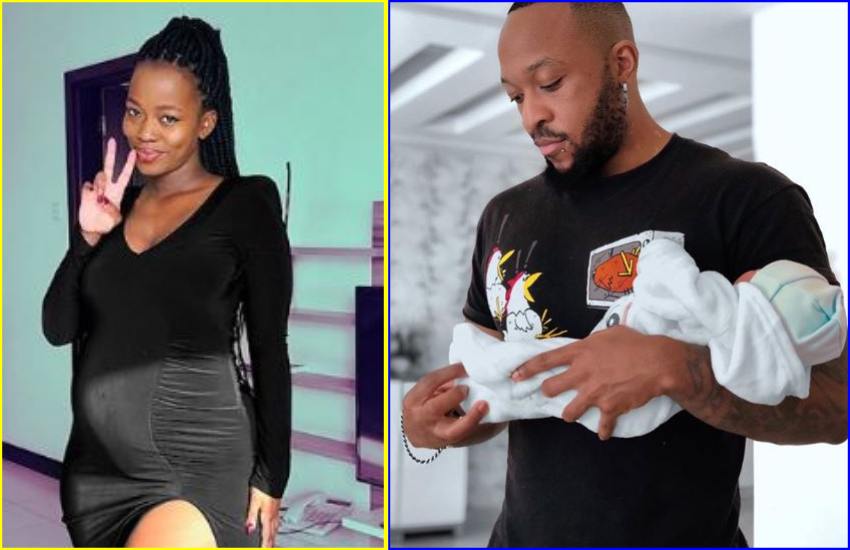 Lawyer and socialite Corazon Kwamboka has on Sunday, August 9, 2020, welcomed a baby boy with her lover fitness coach Frankie Kiarie alias Frankie JustGymIt. "He is here!" read the caption of a video posted by Frankie on YouTube making the announcement of their newborn's arrival six days after they revealed his name, Tayari.
According to Kwamboka, a three-minute video of their gender reveal was not to see the light of day in fear of backlash from critics whose sharp sentiments have dogged their presence on social media following their decision to go public with their relationship soon after Frankie's acrimonious split from YouTuber Maureen Waititu.
"We were just having fun and doing this for ourselves, this video was never intended to see the light of day. At this point, we never thought we'd ever have the courage to be open about us. I just felt like sharing," shared Kwamboka.
Read Also:Frankie JustGymit speaks for the first time after break up with Maureen Waititu
In July, the curvaceous beauty showed off her baby bump for the first time and revealed how endometriosis -abnormal growth of endometrial cells outside the uterus - according to MedicineNet, almost killed her dream of ever having a child.
"If someone told me January last year that I'd be feeling you kick deep in my belly at the sound of your father's voice, I'd most definitely think they were deranged! Endometriosis had crippled my dreams of birthing a child. But here we are; a pleasant and welcome surprise. I can't wait to meet you, hold you and teach you everything I know," she wrote.
According to Waitutu, Frankie cheated on her with Kwamboka. "Don't even think about coming after me without knowing the other side of the story. Ps, if by screwing around with a socialite who he was flirting with when we were still together and knocking her up is what you call getting a mate, I pity your kind of thinking," she responded to a fan who had accused her of tarnishing the fitness enthusiast's name after she claimed that he was not meeting the needs of their two sons.
Claims Frankie denied via his YouTube account. "I didn't leave Maureen for Kwamboka, Maureen and I broke up, then I met Kwamboka. It wasn't planned that I was gonna let this beautiful thing we had and go start another beautiful thing that now we have going on," he said. A position affirmed by Kwamboka who, on her part, highlighted that she met him after he called it quits with Waititu.
Read Also:Maternity photos of Kenyan celebrity couple set internet on fire
"People saying I ruined his family. That is not true," stated Corazon. "When I told him I was pregnant he was like okay, what are we going to do, and we agreed. He did not react negatively, we were all mature about it. Bringing a child to the world is the responsibility ya watu wawili. I wanted to know what he thinks and how he feels before I made a decision. It was not planned, it was a surprise. We had just found something beautiful and we did not want any backlash about it so we decided to keep it to ourselves for a while."