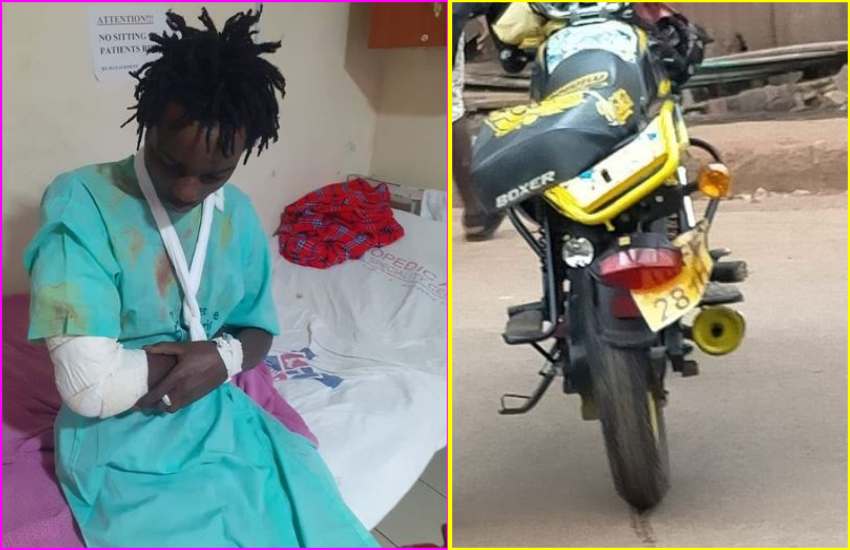 Fast-rising Gengetone rapper Zzero Sufuri is out of danger after undergoing surgery for injuries he sustained following a nasty motorcycle accident in Kibra on Friday, July 24, 2020. While it is not clear if he was riding the motorcycle, which according to photos shared on his account told of a grisly impact, Sufuri was admitted at St. Peter's Orthopedic Hospital in Uthiru, Kiambu County following the crash.
Read Also: Why artistes in other genres are jumping on Gengetone bandwagon
Revealing the severity of his fractures today, July 26, the Zimenishika star, spotting a sling and a heavily bandaged arm, stated that he underwent a successful Open Reduction and Internal Fixation (ORIF). He, however, noted that he cannot be discharged from the hospital due to mounting bills and pleaded for his fans and well-wishers to chip in.
Read Also: The untold story of Ethic, the founding fathers of Gengetone
"After theatre!!! Internal fixation (ORIF) surgery was a success!! The bone fracture was able to be repaired. Will be discharged once the billing has been settled," read Sufuri's post. "Following a road accident involving Zzero Sufuri, we are calling upon everyone to support cover his medical bill... Your support will be much appreciated," read a statement he put out on Saturday, July 25.
Below are some of the photos of the motorcycle and a video of the rapper being wheeled into the hospital:
Related Topics