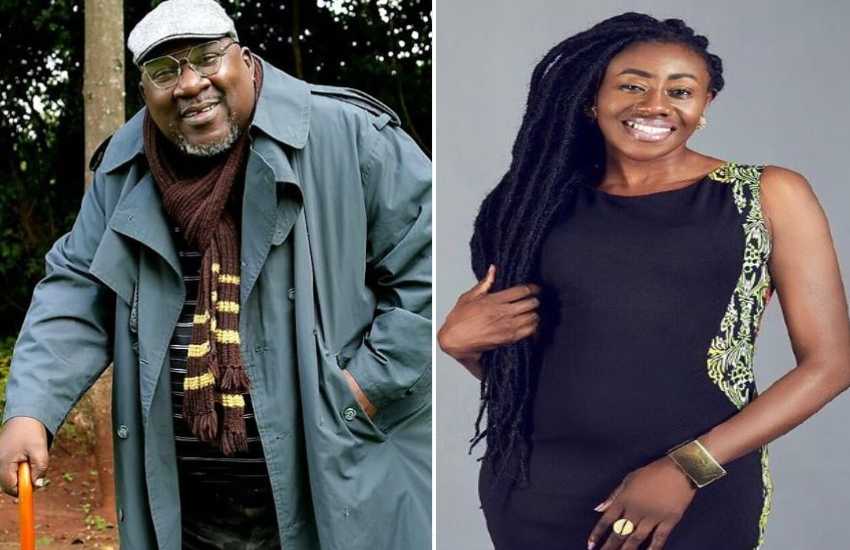 When veteran actor Charles 'Papa Shirandula' Bukeko died on Saturday, July 18 aged 58 at the Karen Hospital following a short illness, a loud deafening silence tore into the entertainment industry. Its claws as it shrieked past, rolling through in a ball of pain as the nation grieved of his passing could be felt tearing hearts. To many, news that the comedian whose infectious personality embodied excellence for over a decade and exemplified every grass to grace story had died, was beyond belief.
To his family, fans and colleagues, the loss can never be put to words, neither can the shoes he walked on as he paved the industry with tears and sweat as he trailblazed it for future generations, be filled. This rang true during his burial in Namisi-Bukeko, Funyula, Busia County on Monday, July 20. Many who spoke, including his widow, Beatrice Andega, understandably struggled to find words to weave and cusp the wind to epitomize the legend of Papa. Those who worked closely with him in the long-running Citizen TV series 'Papa Shirandula' wherein he played a larger than life security guard living a lie, have since his passing come out to express their condolences and celebrate the role he played in the success of their careers and for the warmness that he extended to all and the professionalism he instilled.
Read Also: Where did it all begin? Why Charles Bukeko was perfectly fit for the role of Papa Shirandula
Taking to her Instagram account on July 25, Jacque 'Wilbroda' Nyaminde, his wife in the show, Papa's sudden passing shook her to the core. Wilbroda narrated that the actor was a true friend, on-screen partner, mentor, neighbour, and great uncle to her son. "A week ago on a day like this, at a time like this, I received a call that will stay on my mind for a long time to come. I stood at the supermarket dumbstruck, unable to move. My heart sank. I went to my car and cried out loud 'Papa what have you done! What have you done!' We had such big plans for the future of entertainment. We had even started shooting our production just 2 weeks before. And what an amazing time we had on set! You were so happy, excited, optimistic," stated Wilbroda.
Read Also: Charles Bukeko dead at 58 - Outpouring of grief for Papa Shirandula actor
Thanking Papa for giving her a chance, Wilbroda explained that she has suffered tragedy before, but his death, hit her hard and went on to urge for a relook on how we live, especially on the certainty of death." These past three months we grew so close. We sat together, created together, ate together, laughed together. Nothing could have possibly prepared me for your death. We were sure we had lots of days, years together. I have never felt so deceived, so cheated...You bailed out just like that...I saw you on Wednesday and we spoke. My son saw you on Friday evening and you spoke. And on Saturday morning you were gone. I've been hit before but this hit me hard. Thank you Paps for seeing in me that which I hadn't seen in myself and for giving me a chance...Safiri salama. We all die. The goal is not to live forever. The goal is to create something that will," she added.
Read Also: How my aunt conned me Sh80,000, landed my sister in police cells - Wilbroda
Remembering Papa, Kiss 100 presenter and comedian Felix Odiwuor alias Jalang'o, on his part, said that the death of his mentor was a bitter pill to swallow. Opening up on his weekly YouTube show, Bonga na Jalas, with friend Kazungu 'Captain Otoyo' Matano, Jalang'o disclosed that Papa is the person who handed him his signature moniker, Jalang'o. "We had been acting Luo plays at the National Theatre for some time and one day actor Inspekta Mwala (Davis Hezron Mwabili) calls and asks us to debut on his show, Inspekta Mwala," said Jalang'o. "Then we suddenly receive another call from Papa and he says he has a gig for us but only for one episode. We immediately go for the briefing. On arrival, Papa is there seated, carrying scripts."
He went on: "There is a character for someone who will be named Jalang'o and another one for Otoyo "Papa pointed at me randomly and said 'You will be Jalang'o, he then points at my colleague and says 'you will be Otoyo', this are your scripts for tomorrow, familiarise with them. Your role is to welcome your sister, Wilbroda, for her wedding to Papa Shirandula. And just like that. I became Jalang'o for life. I could have as well been Otoyo on the day and for life. Somebody else could have been Jalang'o. Thank you Paps. Thanks for everything. I will miss you so much."