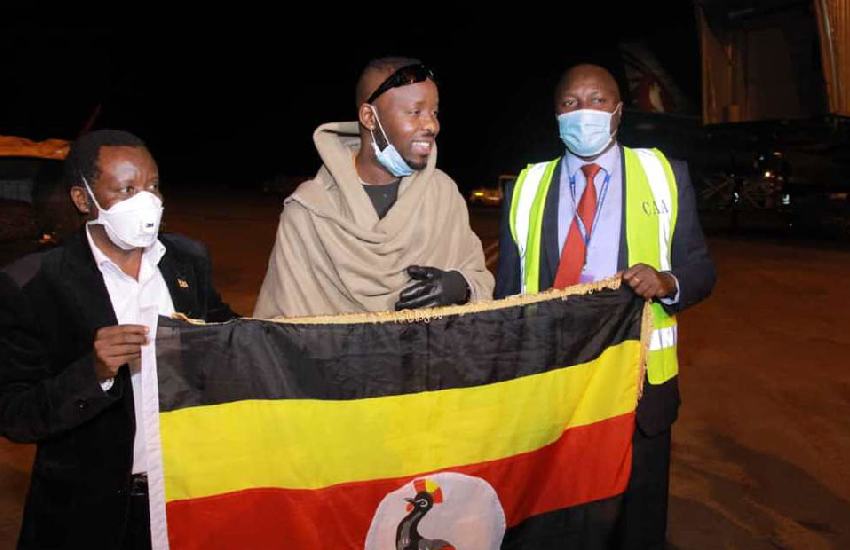 Sitya Loss hitmaker Edrisah Musuuza alias Edy Kenzo is back in Uganda after over three months in Côte d'Ivoire. Kenzo, according to local media, arrived in Entebbe on a chartered flight at 3:30am aboard Uganda Airlines. He was among 64 stranded Ugandans in West Africa who made it home after months away following the country's ban on international travel in March 2020 following the outbreak of coronavirus. According to the Daily Monitor, the passengers aboard the plane parted with Sh150,000 ($1,376) in air tickets –regardless of pickup points and had to contend with a six-hour delay due to stopovers in countries where meeting hubs had been gazetted.
Read Also: Eddy Kenzo separates with Baby Mama Rema
In total, 231 people returned with 167 jetting in earlier from Qatar and received by officials from the Ministry of Foreign Affairs. Whilst the singer's woes may be over having unexpectedly had to extend his stay in Abidjan due to the lockdown where he had travelled to perform at the Masa Fest on March 16, 2020, he may have to endure another 14 days in quarantine. This is according to measures announced by the government in March that directed that Ugandans coming in from 'high risk' countries will be forced into quarantine at their own cost. As of July 25, Uganda has since recorded one death and 1,089 Covid-19 infections. Speaking three months ago, the singer was forced to clarify a post he made that his savings had run dry in Abidjan.
Read Also: Bobi Wine launches political party ahead of the 2021 general election
Kenzo said he was misquoted when he jokingly shared that he was in a "worrying state" in West Africa and needed cash wired to him. The cash, he added, was to be made in exchange of his then newly acquired Land Cruiser V8. "I was watching the president adding more 21 days of which it helps the country but I need someone to send me money by Western Union in exchange for my car. Otherwise, my situation is worrying," he tweeted. In the rejoinder after concerns were raised over his wellbeing in Côte d'Ivoire, Kenzo apologized, saying he inconvenienced his fans and family.