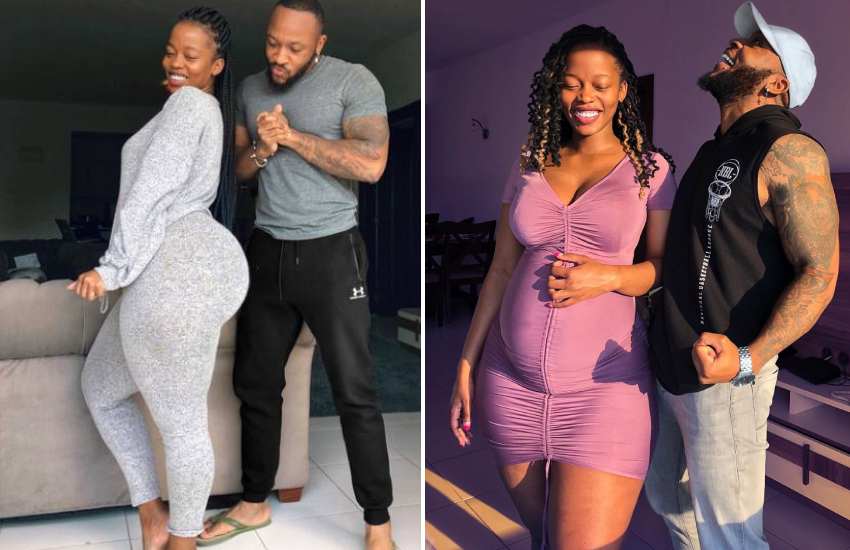 Popular socialite Corazon Kwamboka and her fitness trainer boyfriend Frankie Kiarie, better known as Frankie JustGymIt, were recently talk on social media after they unfollowed each other on social media and deleted each other's pictures from their respective accounts. A move that raised a lot of eyebrows among netizens with many wondering if their whirlwind romance was over. What stirred, even more, talk of a break up was Kwamboka's Instagram post where she joked about karma catching up with her too soon.
Read Also: Corazon Kwamboka pregnant for Frank Kiarie
Well, the truth is that Kwamboka and Frankie are still together and madly in love with each other. According to Kwamboka, they made the drastic decision to pull away in order to concentrate on growing their relationship away from the prying public. In a brief chat between the Genio Sportswear founder and blogger Edgar Obare, Kwamboka reiterated that she and Frankie are doing better than ever. "Hey, how are you? Why have you decided to shake the internet again? What has happened between you and Frankie?" asked Edgar. "Lol I just started feeling invaded and stressed with people knowing my life too much so we decided to keep the relationship to ourselves," responded Corazon. "We are even together now. You can post this if people are talking," she added.
Read Also: How my socialite daughter Corazon Kwamboka broke my family - Dad
Pointing fingers
The couple has in the recent past been making headlines ever since news of their relationship and pregnancy went public. A section of netizens ganged up on Kwamboka, accusing her of coming between Frankie and his baby mama, Maureen Waititu, and labelling him as a deadbeat dad. The fitness trainer responded to the claims explaining that trouble between him and the mother of his two sons started way before Kwamboka came into the picture. "I didn't leave Maureen for Kwamboka. Maureen and I broke up then I met Kwamboka. It wasn't planned that I am going to get rid of this beautiful thing that we had going on and go start another beautiful thing that we have now going on. That wasn't the thought process. We had our differences and issues and it's something that people need to understand.
Read Also: It almost feels like grief - Maureen Waititu on splitting from baby daddy, Frankie
Maureen, on the other hand, did not, however, agree with Frankie as to when he and Kwamboka met. According to Waititu, the curvy socialite and her ex knew each other while they were still together and flirted without any consideration for her."Excuse me? Who are you to think that you know me? Do you know what I do for my kids? Do you know anything about what being a father is? Should I speak all the unspeakable things he's done to me for you to understand how much I have covered for that man? Did he or Kwamboka send you? Ps if by screwing around with a socialite who he was flirting with when we were still together and knocking her up is what you call getting a mate, I pity your kind of thinking. You must have a very perfect life to be minding other people's business. Women like you are why society has a problem… I wish you everything that man has put me through and you will remember why a person like me is maintaining her silence," an angry Maureen wrote to one of her followers for overstepping.