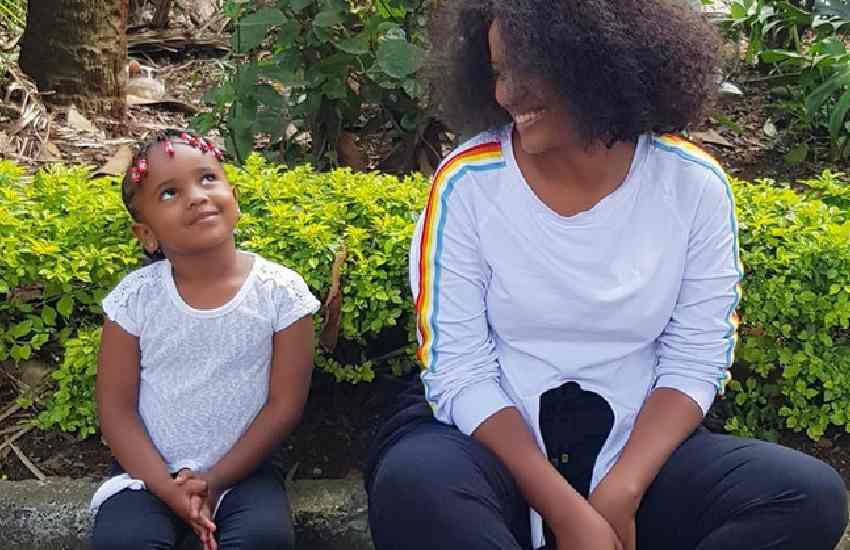 Celebrated disc jockey and actress DJ Pierra Makena has opened up about her fears as a single parent. Taking to social media to celebrate the fourth birthday of her daughter, Ricca Pokot, the mother of one stated that she thought raising a child without a father would be a disastrous undertaking. She went on to add that she has become a prouder parent for she has achieved more than she thought she would. "I'm so proud of my years as a single parent than I have ever been in my life. I thought raising my child without the father will be disastrous only to realise we just panic and think we can't do without a man's help...yet we are capable and strong," she wrote in part.
Makena added that thanks to parenthood, she has become more independent and went on to advise women against forcing a man into a child's life. "I have become more hardworking...independent and superhero!! If a man does not want to be in his child's life...never ever force him......assume his position and raise the child for him," she added. While patting other parents on the back, the DJ added that positivity and faith are key. "Stay positive. God has your back. The reason for my post you ask? Coz people have been asking how I make it as a single mum and always happy and killing it... yes, its coz I don't believe a man holds the key to my success and happiness. Shit happened we move on... cheers to all parents raising their children ...kudos! Happy 4th my love," stated Makena. 
Read Also:DJ Mo sets record straight over fathering DJ Pierrra's daughter
In March, Makena revealed the anguish she went through on leaving her daughter behind as she toured the United States. "If you know me...you will know how much I love my baby. Being separated has been one of my worst nightmares. I get anxious… I get sleepless nights....but I thank God for my family who are extremely supportive and assuring me every day that all will be ok...may God protect us all," shared Makena. Stranded briefly in Los Angeles due to the impact of coronavirus on international travel, Makena disclosed that her extended stay during the period necessitated her to be in isolation for 14 days on arrival.
"I'm in for 14 days quarantine. I'll try to keep you guys posted. Be safe and keep others safe," she posted. Upon completion of the mandatory quarantine, she took to her Instagram page to express her gratitude. "Felt better yesterday. Still can't sleep at night. I spoke to my baby, and she is not taking it well. It's terrible. I feel bad that I can't see her yet. Staying in the house is weird, though, but thanks to my friends who have been checking up and even coming downstairs to wave at me crazy uh!?" she wrote at the time.