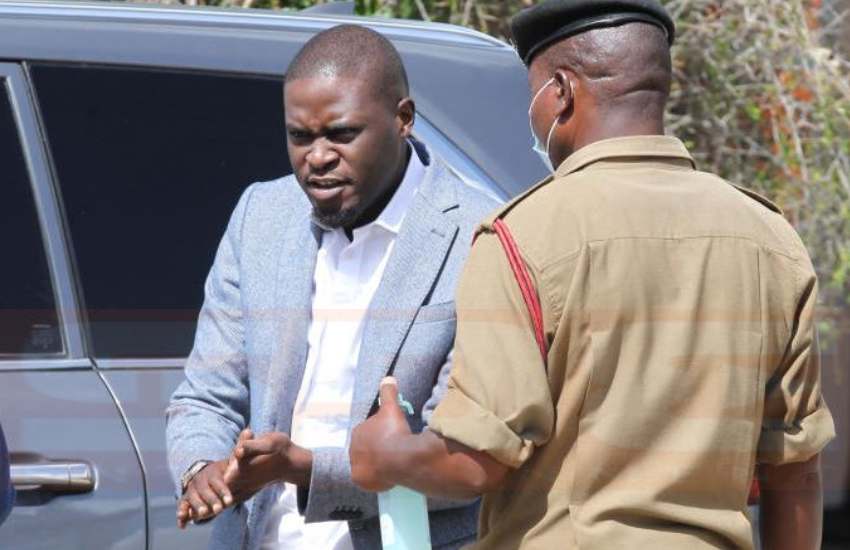 Police were last evening looking for Nairobi Senator Johnson Sakaja for detention and processing, accusing him of flouting Covid-19 pandemic rules. Senator Sakaja, who chairs a Senate committee exploring responses to the Covid-19 pandemic, was on Friday night arrested at a bar in Nairobi's Kilimani on claims of violating the government's curfew orders, but later released. Yesterday, police camped outside Sakaja's house to arrest him after top government officials questioned why the Senator was released even after breaking the law. According to the police, Sakaja threatened to have all police officers from Kilimani Police Division transferred within 24 hours. The Senator has denied having been arrested, tweeting: "Never been arrested. Won't be. Show me an OB Number."
Read Also: Nairobi Senator Sakaja arrested at Ladies Lounge for partying during curfew hours
Ironically, Sakaja chairs the Senate ad hoc committee on Covid-19 pandemic in Kenya. The committee is mandated to oversight actions and measures taken by the national and county governments in addressing the spread and effects of the Covid-19 pandemic in the country. The curfew hours were extended to between 9pm to 4am as part of regulation to contain the spread of Covid-19. Police said they received information that a bar, Ladies Lounge, which is off Dennis Pritt Road, was still operating at around 1.10am and that when they went there, they found Sakaja in group of 10 people, who were drinking. According to the police and witnesses, the Senator was advised to leave, but he declined, prompting the team leader to call her bosses, who also failed to convince the lawmaker to leave.
Later, Adan Hassan, the Deputy Sub-county Commander - Kilimani, was dispatched to the bar with a reinforcement. Police said Sakaja and his acquaintances refused to leave and dared the officers to handcuff them. According to the police, Sakaja also told those present not to leave as ordered. Later, six of the people in the group left. Sakaja and three others remained. The other three, however, refused to give their names when asked for processing, police said. The three were driven to Kilimani police station, where the Senator was asked to agree to be granted free bond, but he refused to leave, denying that he was drunk and questioning why he was being humiliated. It is then that the Senator is said to have threatened to transfer all the officers involved in his arrest within 24 hours.
A video that has gone viral on social media captures Sakaja refusing to leave the police station. "You know me for 10 years, but these police officers have known me today, but they say I'm drunk. Am I drunk?" Sakaja asked his unidentified friend. The Standard tried to reach Sakaja yesterday to verify the video clip and the claims made against him by police, but he could not be reached.
Read Also: Curfew - 10 ways Kenyan daredevils are beating the system to have a drink
Talked to his friends
The officers looking for the Senator said they had talked to his friends and colleagues, who had promised to trace and take him to the police station. Questions now linger on whether the Senator went against the very rules that he helped formulate as the chair of Senate's Covid-19 committee, and whether police applied double standard by releasing him. In the UK, Prime Minister Boris Johnson's most senior adviser came under fire for breaking travel regulations put in place during coronavirus lockdown, ignoring the Covid-19 rules that he had helped craft, after he drove 418km from London to Durham, during a lockdown. He denied breaking any law.