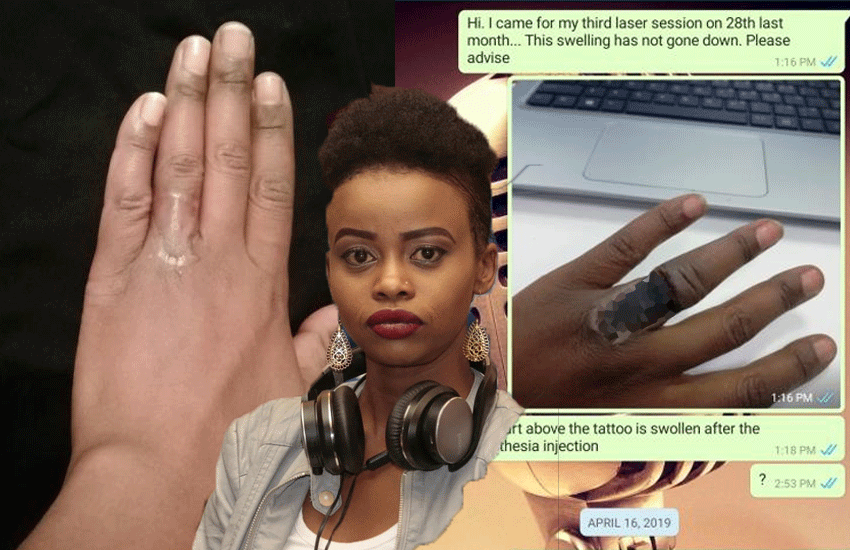 Former radio personality, Tina Kaggia has an axe to grind with a local clinic, Keridam at Norwich Union building, Nairobi, after what she says was a procedure gone awry, when she went to have the tattooed ring on her finger removed.
Tina had gotten a tattoo instead of a wedding band during her nuptials.
"I paid for a consultation with their 'dermatologist', who informed me it would take about three sessions to have it completely erased. I did the first session, the ink started peeling off kidogo. The second session, there was no change," she told Pulse.
READ ALSO: Tina Kaggia responds to JB Masanduku's plea to see his children?
The third session is where things went bad and she says that nearly cost her hand.
"Whatever they did, burned into my finger and the flesh was not regenerating. I contacted them about it and asked what to do and they kept 'blue-ticking' me.
"Eventually when they responded, I had seen a doctor at AAR who urged me to book an appointment with a surgeon for reconstructive surgery, or else I'd risk losing not just a finger, but an entire wrist," she said, sharing pictures of her badly-wounded finger with us.
When Tina informed Keridam, they insisted she see a dermatologist, assuring her there was no need for outside counsel. They sent a prescription over the phone. Last week, she visited the clinic, only to be stone-walled.
"All I wanted was compensation for what they did and the money I spent, but now I will take them to court," an aggrieved Tina shared, adding that she will also consider filing a complaint with the medical board. 
READ ALSO: Punked: Bloggers fall for Tina Kaggia's prank?
We reached out for a comment from Keridam, who were unwilling to reveal the name of the doctor who performed the laser procedures.
Joan of Keridam, however, claimed Tina did not follow through with the post-treatment, which includes a cream and antibiotics, thus aggravating the situation.