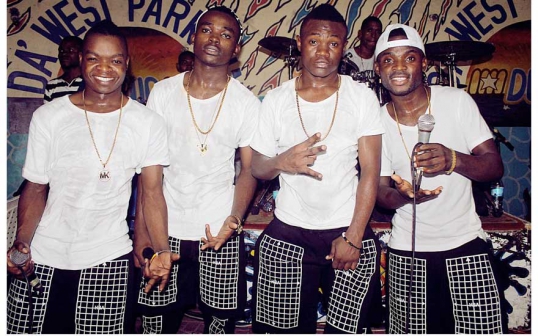 The 2015 hit single Nitakupwelepweta by Yamoto Band is still one of the biggest songs to be released by a Tanzanian band and currently enjoys almost five million views on YouTube. The ensemble, made up of fast-rising stars, became an instant hit after the single.
The same year, they released follow up releases such as Mpaka Nizikwe and Cheza kwa Madoido and quickly rose to regional prominence.
However, since the release of Mama in February last year, fame and fortune seems to have worked against them and now, as Pulse finds out, each member of the celebrated group is singing a different tune.
Everyone is pointing fingers, accusing each other for the collapse of a group that was loved by all. Even as each of them is working on solo projects, Said Fella, the man accredited with pulling the four boys who make the Yamoto music group together, is trying to play down the obvious eventuality.
Speaking to Bongo 5 recently, the prominent businessman, tried to absolve Dogo Aslay of any blame, saying it was being economical with the truth for each artiste to try to gain prominence than use the group for growth.
"When it (Yamoto) started, I wanted Alsay to hold the hands of the others so that they become popular. But business has changed and groups are no longer in demand. The fee for a group is very different compared to that of an (individual artiste)," hints Fella, of the situation that has Yamoto fans disappointed.
"When people hear the fee Yamoto demands, they run away yet they can pay an individual artiste up to Tanzania Sh1.8 million. We looked at the situation and decided, as management, to let each artiste earn from their own sweat," he elaborates.
But why is Fella absolving Dogo Aslay of any crime? Did the Kusema artiste, who was already a star before the group came about, become too selfish for the group?
According to Beka Flavour, a member of Yamoto, Dogo Aslay is the reason the group is no more.
"Kile kitu kilifanya tujiulize kwa nini huyu katoa ngoma sisi wengine tukikaa kimya tutaonekana kama hatuna uwezo wa kufanya kitu, ebu na sisi tufanye lakini hatukutaka kufanya kama alivyofanya yeye, basi tukaomba uongozi wetu na kukubaliana, Mkubwa akasema mnakuwa mnajiongeza na kujikuza kwenye muziki, (We asked ourselves why he (Aslay) released a song while we were silent as if we do not have the talent to emulate him, so we decided to each go our separate way and do what he did, so we asked the management and Fella said we are growing up so we need to try things out)," says Beka.
The statement contradicts Fella and shows the deep-seated animosity Aslay had created in the group. Aslay on his part blamed poor decisions, pointing out the financial problems the group had encountered.
"When we released the video to Madoido, we had so many shows and zero time to enable us to shoot more videos but we were also building (houses) and we sort of lost focus," he says.
"We came back and did Suu, which we did in Zanzibar and we had money to shoot the next video in South Africa, but we ended up doing things that derailed us and talking about them would be opening closed wounds," he adds.
Yamoto's breaking up, much as it will be heart-breaking for many fans of the boy band, won't be the first case of a high profile group to do so in Bongo.
A few years back, when Bongo music was setting up shop and attracting all fans across the region, TMK broke up. The super group, from Temeke in Dar es Salaam, was so popular that former President Jakaya Kikwete tried to intervene to stop the infighting. East Coast Team and Gangwe Mob also split much to the disappointment of fans.
Veteran bongo artiste Inspector Harun alludes to the inevitability of groups breaking up, saying people grow up and interests change.
"Maybe the kids have grown up and want to do things differently, which is not discouraged, so long as there is respect and there is recognition of what each want to achieve," he said, adding that many groups like Wenge BCBG and Gangwe Mob have also taken the same route.
Beka Flavour, who released Libebe after the group went separate ways, seems to be happier alone, even operating under a different management team.
"There were many things I could not do when in a group- my verses were short and there were so many levels of consultations every time something came up. Now, I do my own thing" he says.
Related Topics