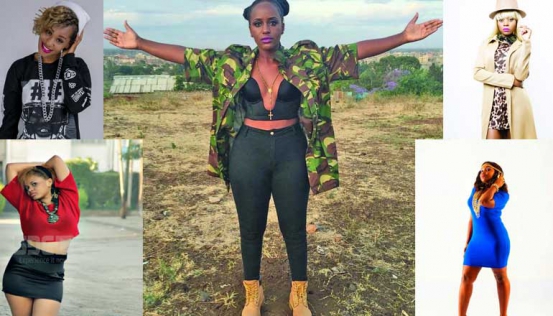 "F** it, najua hivi ndi ndio mta-reply/Femi yuko chini, na vile unajidai/Femi we ni-fake, we uchorewa, we uandikiwa/ Femi Kaka empire inakuwaste/ebu saidiwa/Femi Femi Femi..." in her jungle military gear and boots, a mean-looking Femi kicks off her attack in the Pilau Njeri video that has been described by many as brutal.
She takes to the jungle looking warlike, oozing spiteful vengeance as with her lyrical prowess and act she starts to slay the dragon that is the female emcees' venom.
Even if Femi One, the versatile and talented rapper, now says that the lyrics were not meant to poke anyone's ego, it is crystal clear that Femi One had an axe to grind and more so with Njeri, her music archrival, as well as with Sosuun and Noti Flow.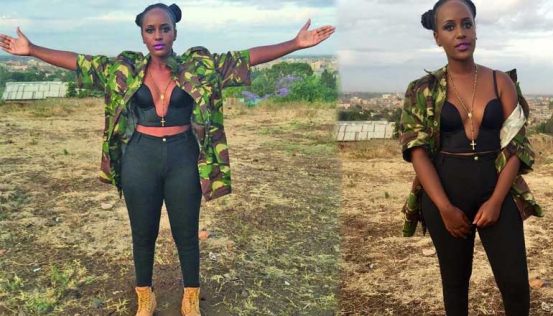 "Sipendi watu wanacome so soon/Sijui wananiletea the sun and the moon...Njeri jiwekee ilemauwa yako ya snap chat/Tuma reply am waiting uone nikiclap back...So manager wako alicall wangu, tafadhali collabo/trash music/Njeri bado...," she rages on going, ahead to attack the two fellow rappers.
Then she turns to Kush Tracy, Petra and Noti Flow:
"Wacha ufala nitakuslap we female, ambia producer wako akuambie ukweli we female/Madam, labda ujaribu Kush Tracy/Sasa huyo nimemtaja...Lines mko nazo ni za simu utu, Noti Flow kitu gani, na hakuna ganji, pia sink yako imeblock...Producer alikucheat atakujengea hit, spend a few nights kwa studio, I guess hio ndio inaitwa hit"
The video that was posted about two weeks ago on YouTube has been the talking point in the local showbiz scene and now the battle is clearly on between the new brand of young female rappers whose presence has been hard coming in a male dominated music field.
First, Femi One makes a mockery of Njeri the Miti ni Dawa rapper, launching the video with a footage in which Njeri confesses that she looks up to Femi as a mentor, a clip that would almost deceive all that she means good. Then...the onslaught!
Even though this may seem to have come from the blues, the truth is that these rappers have been having beef since the release of the Ligi Soo (remix), a Kaka Empire medley video where almost all the female MCs had a face-off.
After the release, Njeri went back to studio and recorded a single whose lyrics seemingly were directed on Femi One, the very genesis of the current tiff between the two female stars.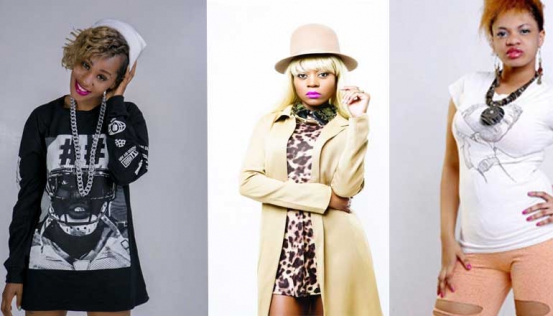 She rapped: "Banture brikicho/Si ucome nikushow/But kunavile ubebewa akili jo/So wachanikusare kabla uandikiwe mistare/ kama me ni Nakumatt we ungekuwa Uchumi au Mesora..."
It seemed Femi One did not take being put down lightly.
In the typical diss style-where the beat is inconsequential to the grander scheme of things, Femi One is actually very articulate, ripping into Njeri's social media posts, career and her accent.
"The song is just a wake-up call to all female rappers," Femi One told Pulse. "We need to wake up and grind more, we need to step up and push ourselves to the limit."
"It is not an attack as many want to put it. I am only challenging my fellow female rappers to step up the game. I am asking them to come out and battle out for their space.
This is not hate. Now, if they think I am attacking them, they should probably reply that in their next release," she adds.
Noti Flow, who is yet another controversial rapper, actor, LGBT activist and social media nudist is thoroughly torn apart, accused of being broke and naïve to the point where a certain producer duped her then made her sleep in the studio.
Along the way, Femi One runs out of steam and starts to name-drop the events she has featured in, including the launch of the Pambazuka National Lottery and Coke Studio Season 4.
She makes fun of Kush Tracey and Sosuun, saying unlike Kenrazy's wife, who featured in the Sportpesa Festival cypher in January, she (Femi) was heavily involved in Pambazuka. This is quite laughable.
Sosuun says that she does not take it to heart because she has not been directly and informatively mentioned. She brushes off Pilau Njeri.
"I don't want to say much about this, after all Femi (One) has not attacked me...No, I don't think so. I am not having beef with anyone," she says.
"I don't do my music with other rappers in my mind. I have a management team and would they want to make a statement on this, they will surely do so."
The Pilau Njeri release provoked other artistes to join the battle for the throne with diminutive femcee Kyki releasing Kuku Mwitu, another teardown that calling Femi One, Njeri, Kush Tracy, Noti Flow, Sosuun and others as well as the entire Kaka Empire, dismissing them and asking them to quit music.
"Sungura wewe, kula majani... Femi One Femiplan, P2, we ni gani..." she disses.
She goes on to slam Njeri warning that she is not one of the artistes to watch out for as she dismisses that she should go back to her upcountry native home; instead of behaving like a town girl.
"Njeri, we si mmoja wao rudi ndumberi."
She goes ahead to call Noti Flow a stripper, Sosuun a wannabe and STL childish.
 Kyki-born Sandel Mahinda - who is one of the most versatile upcoming rappers, finishes off the contest, rapping,
"Mimi ni kuku kienyeji, ninyi ni kuku mwitu..."
"I have heard all that and all I can say is that the two singles have cheapened the music rap game. It is all watered down," says Noti Flow.
"Now, I know everyone is waiting for me to answer back, to throw in some s**t and keep the fire burning. Isn't that like tagging along? Seriously, is this what you want me to do now," Noti Flow teases.
"You can only call me out if you think of me seriously. You can only call me out because you want to use my name to become more famous. See, who is boss now?"
The excitement, if maintained, will go down like the 'King' contest that took the better part of last year, with male rappers, and Njeri, dropping song after song, reminiscent of the beefs that took place in the early 2000s that involved Kleptomaniacs, Chiwawa, Prezzo, Redsan, Bamboo and Mwafreeka.
Unfortunately, it all fizzled out.
"I have no issues with Njeri or any other female rapper out there. We are all good," even after saying on Kiss FM that she was putting Njeri to her place.
So who will be the queen on the throne! The showdown goes on.