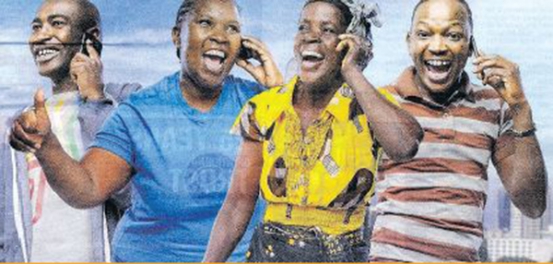 Their claim to 'fame' is being the butt of people's jokes after unwittingly giving hilarious eyewitness accounts, often with heavy accents. Some have even had songs composed from their interviews, with downloads of the songs being popular ringtones. Now, they have made it as models for a leading telecommunications company. You must remember the 2013 phrase 'ni kama ndrama ni kama vindio', or the 2011 phrase 'serikali tafadhali saidia'.
The two, Jose the Witnesser (Joseph Mburu) and Jane Anyango Adika who, respectively, coined the phrases during their TV eyewitness interviews were recently used in a Safaricom advertisement promoting the Stori ibambe na Storo bonus campaign.
In this, they were together with other 'famous' eyewitnesses, Bonoko (Francis Kimani) and the 'Kifikifi Witness' (Alice Wambui). Bonoko, who now even has a radio show, is remembered for his account of how a suspected thief was gunned down at Ngara and a bonoko (fake gun) placed on him while Alice Wambui witnessed someone being forced to get onto a kifikifi (motorcycle).