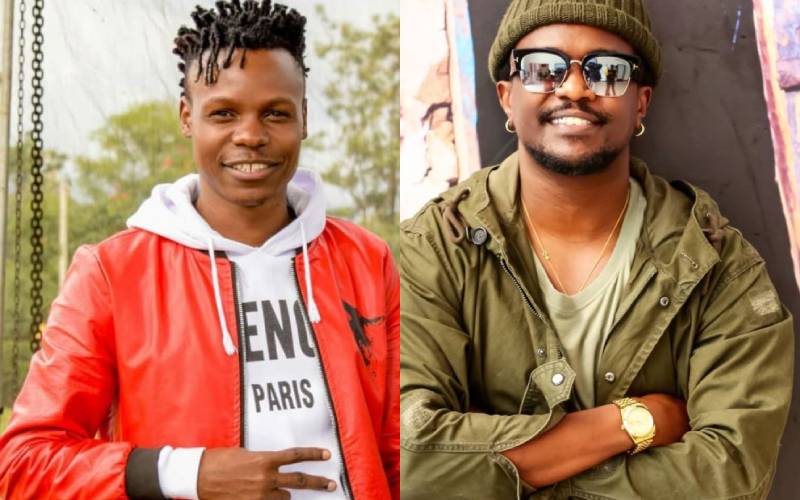 While beefing is deeply tattooed in the craft of music for fame, other artistes are out here giving credit where it's due. A month ago, award-winning gospel artiste, Eko Dydda praised Nyashinski for being an outstanding artiste. Eko Dydda took to his Instagram page singing praises of Nyashinski, saying, "You deserve a Grammy ICON @realshinski for being outstanding in all your songs for decades. I remember sticking next to the radio listening to 7at 7 on Kiss 100 just to hear your bangers, you are always lit setting the bars up there for the whole hip-hop community. Hands up fam, this is your day LEGEND I CELEBRATE YOU, nakutambua."
As Eko Dydda set the pace for appreciating other artistes, the real OG Khaligraph Jones followed suit. He shared a photo of himself on his Instagram page in the presence of Odi wa Murang'a and famous producer, Magix Enga. He captioned, "With them boys @odi wa murang'a and @magix enga Magathee wamechapa mat za ronga #respecttheogs." On the same post, Eko Dydda responded, saying, 'Keep Shining.' The real OG recently released a freestyle rap on his Instagram page, where many fans and other artists appreciated his art and contribution to the rap game.
Prezzo was one of the artistes who appreciated Khaligraph Jones. He recently posted a video of the real OG Khaligraph Jones doing a freestyle rap and captioned, "Real recognize real @Khaligraph Jones you hit me off guard 110% with this one bro. God bless my hitter! The OG's Shall Be Respected. "
ALSO READ: I have no beef with Octopizzo- Khaligraph Jones responds to diss
It's good to see some artistes appreciate one another, mostly due to the stiff competition in the music industry. There have been many public disagreements between artistes before, like Khaligraph Jones and Octopizzo, Bahati and Willy Paul, and Jaguar and Ringtone. But one of the most recent ones was between music industry heavyweights Avril and Naiboi, who earlier this year ended their two-year beef by releasing two collabos, "Weka" and "Rada" simultaneously.
In 2018, Avril refused to feature in Naiboi's hit song "2 In 1", which featured several celebrities, only to appear a week later in Otile Brown's "Kenyan Girl" video. Explaining her snub, Avril said when Naiboi approached her, she had just given birth to her son and was going through postpartum depression. The beef escalated in 2020 when the two exchanged bitter words online after Naiboi posted a video asking his fans to suggest a female musician they would wish to see him work with except Avril. In the video, a bitter Naiboi vowed never to work with the sassy singer. A month down the line, the two dropped two songs each on their various YouTube channels.
ALSO READ: Singer Avril, Naiboi quash two-year beef?
Naiboi later, in an interview, explained how the collabo came to be, and he said, "Ilogos played a prank on us. He called me for a studio session. He did the same with Avril but never told any of us that we were both coming. So we met, had a chat, ironed out our differences, and he decided we should do a collabo." They first recorded "Weka," where Avril features Naiboi, and later did '"Rada" where the one-time producer turned musician features the sassy diva.