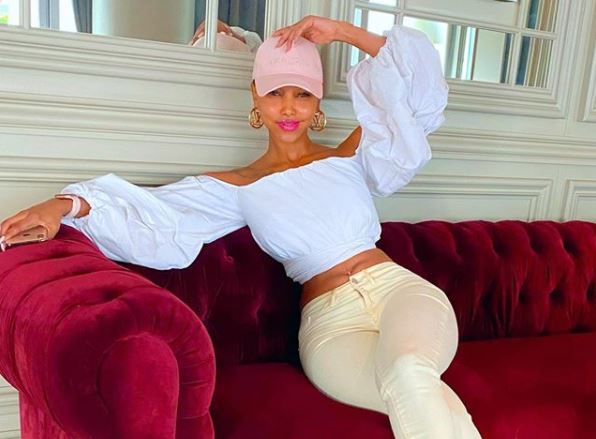 Controversial socialite Huddah Monroe has opened up on plans to have a baby. In a post shared on her Instagram stories, Huddah said her young cousins are having babies giving her the pressure to have one of her own. The CEO of Huddah cosmetics adds that she does not want to be that aunty who ends up taking care of other people's kids at events. "My cousins and my brothers at 19, 20, 1 and 22 are just giving birth…with no source of income! I need to give birth asap before I become the old auntie who feeds the whole family. It's an emergency," she wrote.
However, hours after making the post, Huddah was forced to clear the air because of the many men in her inbox. The socialite said she was joking about the whole thing and that people need to stop with the many proposals. "SMH, about having kids was a whole joke. You don't think I have a list of I can choose from? Lol! Don't DM on that find a career first." She clarified.
Just last month, the socialite turned entrepreneur confessed that she would never break up with a man she is dating because he cheated. According to her, the only people she doesn't entertain in her life are broke and stingy men. "I will never break up with a man for cheating! LOL! Stingy, yes, I'm done. Day 1! Bye! Bye was nice to meet you" stated Huddah Monroe.
ALSO READ: Why I have never been single: Huddah Monroe
Huddah recently revealed that self-isolation/quarantine has truly humbled her in ways she could never have imagined. In several updates on her pages, Ms Monroe revealed she feels like she has been caged. "I break up. 2 hours later I'm bored and I want him back! Quarantine got me begging for D. They say Humble Yourselves! Quarantine has surely humbled me! I feel a caged animal or an inmate," wrote Ms Monroe via her Insta-stories.
While reminiscing her luxurious trips abroad, Huddah shared a throwback photo on Instagram of her stay in Dubai, United Arab Emirates, following Kenya's ban on travel following the outbreak of coronavirus. However, a curious follower bore her wrath's brunt for poking her the wrong way through a comment that torpedoed the socialite's high-roller lifestyle, saying she had fallen on hard times in Dubai due to the lockdown and she should come back home. 
Commenting on the post, the Instagram user identified as Ocs_wa_area_ stated, "Bad girl gone badder na huna kitu unateseka pale dubai ... rudi home mamii…" among other unprintable words. A message that did not settle well with Huddah, who in a quick rejoinder, stated that she has fully paid for her hotel accommodation in Dubai for the rest of the year and that she is at liberty to do whatever she wants with her body.
ALSO READ: Huddah Monroe claps back at fan over claims she's broke
"You wish! Niko huku mpaka mchoke! Pambana na hali yako Mr OCS…" responded the self-made cosmetics CEO who not too long ago, the beauty also put another fan into his place when he tried to question her lifestyle choices. "Ain't you tired of…?" posed the fan, Diamond Defender. This stocked the flames and saw Huddah come all out guns blazing in response. "@Diamond_defender, how can I be? Did you ever ask your mother…" she fired back.