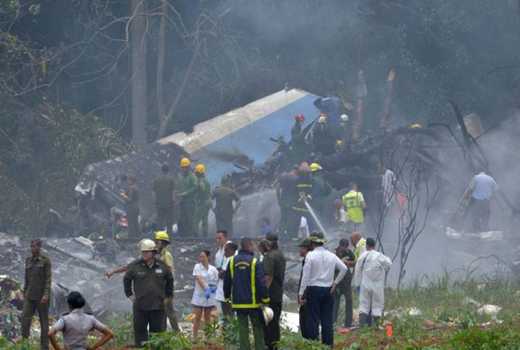 Harrowing video footage has emerged showing the moment a passenger plane crashed moments after take-off in Cuba, leaving more than 100 people dead.
Three people survived when the Cubana Airlines jet exploded into flames and plunged to the ground near Jose Marti International Airport in Havana on Friday.
Five children, including a baby under two, are believed to be among the dead, according to local reports.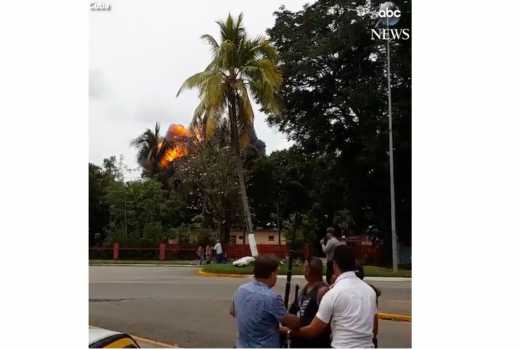 Footage shows a huge fireball erupt into the sky followed by a plume of black smoke as the Boeing 737 plummets to the ground in the jungle.
Stunned witnesses are heard shouting and brave passers-by run towards the scene of the burning wreckage.
Carlos Alberto Martinez, the director of Havana's Calixto Garcia hospital said medics were treating three women, who were in a "critical" condition.
He said four victims had been brought to the hospital, but one has since died.
A distressed relative of one of the survivors, who wanted to remain anonymous, said: "She is alive but very burnt and swollen."
The plane was carrying 105 passengers and nine crew on a domestic flight to Cuba's eastern city of Holguin when it crashed at around 12pm local time today.
It crashed near a motorway and a high school between the locality of Boyeros and the village of Santiago de La Vegas, according to state media.
A number of the crew all believed to be from Mexico were identified, including pilot Jorge Luis Núñez Santos.
The first officer on board was identified as Miguel Ángel Arreola Ramírez, head of cabin as Maria Daniela Ríos and cabin crew members as Abigail Hernandez García and Beatriz Lemon.
Huge plumes of smoke were seen coming from the downed aircraft as firefighters desperately tried to dampen flames.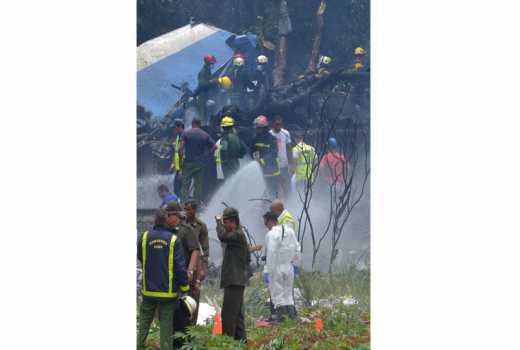 "We heard an explosion and then saw a big cloud of smoke go up," said Gilberto Menendez, who runs a restaurant near the crash site in the agricultural area of Boyeros.
Cuba's president Miguel Díaz-Canel said: "There has been an unfortunate aviation accident. We should expect that the news will not be good, as there are a high number of people who appear to have been killed."
The fire from the crash had been put out and authorities were identifying bodies, the president said.
The cause of the crash was not immediately known and Diaz-Canel said authorities were investigating.
The 737 was operated by the state-run airline Cubana de Aviación (Cubana Airlines) but it had been leased from a small Mexican charter company called Damojh Aerolíneas (Global Air Mexico).
Cubana declined to comment.
The Mexican government said on its website that the plane was a Boeing 737-201 built in 1979, making it around 39 years old.
Boeing Co said in a Twitter post: "We are aware of news reports out of Cuba and are closely monitoring the situation."
On Thursday, Cuba's First Vice President Salvador Valdes Mesa had met with Cubana bosses to discuss public complaints about its service, according to state-run media.
Problems included the cancellation of numerous domestic flights this year, and long delays which the company said were caused by technical problems with its aircraft.
Earlier this month, the company was ordered to suspend flights by its six Russian built AN-158 aircraft, of which most had reportedly already been grounded.
The last fatal crash in Cuba was in 2017, the Aviation Safety Network said. It was a military flight that killed all eight personnel aboard.
In 2010, a commercial Aero Caribbean plane crashed in central Cuba. All 68 people on board were killed.
The latest available information on Cuba from U.N. safety aviation agency ICAO, dating back to 2008, ranks it above the global average - though that preceded the latest three crashes.