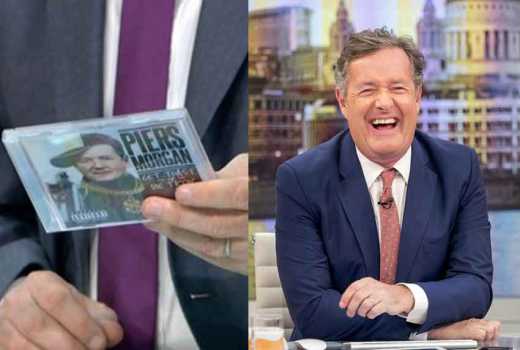 Piers Morgan could be rap's next big thing.
The Good Morning Britain presenter showed off his lyric-spitting skills as he welcomed grime star Big Narstie onto the show.
While he was plugging his new single, Woah, Piers showed off a mock-up of his debut rap album.
He poses up on the cover in a baseball cap and huge gold chain - complete with dollar sign pendant - and proudly listed off the names of some of his tracks, which included On Da Sofa, Real Slimish Shady, 99 Ofcom Complaints, Morgangster's Paradise and Hard Knock Life Stories.
Piers then played a clip of him rapping.
The production team behind the ITV show had strung together a number of clips of the presenter over the tune of 50 Cent's In Da Club.
Piers' version had much posher lyrics than the original though.
It went: "You can find me in the club with bottles of fine Bordeaux, wine and cheese."
"I feel empowered by that," his track ends.
And Susanna Reid asked Big Narstie if he felt the same way.
The star said: "Hey P Dog, I'm putting you the Woah remix."
"Thank you N Dog, thank you," Piers said. "The Big Narstie, The Big P Dog, we're together."
Obviously Piers was just kidding. But who knows, it could be a future career for him.
* Good Morning Britain airs weekdays from 6am on ITV