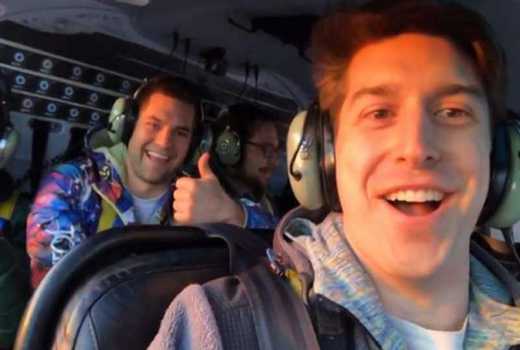 A haunting video shows the inside of a helicopter moments before it crashed in New York, killing all five passengers.
It was posted on Instagram by journalist Trevor Cadigan, who is named amongst those who died in the tragedy, as the chopper took off on Sunday.
Mr Cadigan, 26, is seen smiling in the footage, while fellow passengers smile and give a thumbs up before the fatal crash.
The 30-second clip also shows the helipad from the air as the chopper takes off.
The Eurocopter AS350, which had been hired for a photo shoot, crashed shortly after 7pm in the East River.
Only the pilot, Richard Vance, survived, and he told officials he believes a passenger's bag may have inadvertently hit the emergency fuel shut off button.
The video was taken by journalist Trevor Cadigan and posted on Instagram moments before the
Vance, 33, was able to escape as the aircraft began to flip upside down in the water and he was rescued by a tugboat.
However, all five passengers were unable to undo their harnesses as the helicopter was swept away while submerged in 50 feet of water down the river.
Also killed were firefighter Brian McDaniel, 29-year-old Argentine tourist Carla Vallejos Blanco, and two helicopter employees, Daniel Thompson and Tristan Hill, according to reports.
Mr McDaniel, 26, had been with the Dallas Fire-Rescue Department since May 2016.
"Despite his short tenure, hearts are heavy with grief," the department said in a statement.
Mr Cadigan, also 26, had most recently been an intern at Business Insider until a few weeks ago.
"He was a smart, talented, and ambitious young journalist and producer who was well-liked and made a big contribution," the news site said in a statement.
Two people died at the scene while three others failed to regain consciousness in hospital.
Fire Commissioner Daniel Nigro said: "It took a while for the divers to get these people out. They worked very quickly, as fast as they could."It was a great tragedy that we had here."
Witnesses to the accident near Roosevelt Island said they were alerted by the loud noise of the chopper before watching it hit the water.
"We noticed a red helicopter going full speed towards the water - looked very surreal. Next thing we know it's approaching the water slowly and then it completely crashed and sunk," Arineah Nazarian said.
The aircraft was owned by Liberty Helicopters, a company that offers both private charters and sightseeing tours popular with tourists.
The company referred inquiries to authorities, saying it is focused on the victims' families and the investigation.