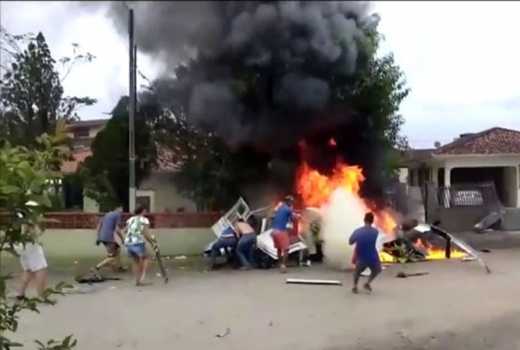 A teenager was pulled out alive from the wreckage of a helicopter which exploded into flames after crashing and killing three people amid a suspected hijacking, according to reports.
Dramatic video footage shows the moment the youngster was rescued by locals who bravely ran towards the fire and smoke to drag him out.
Daniel da Silva, 18, was saved after the helicopter reportedly smashed into the ground in Joinville, southern Brazil, at about 4pm yesterday.
The crash killed the pilot, the co-pilot and a passenger, according to reports.
It is alleged that Silva and the other passenger were trying to hijack the aircraft for a jail break, the Daily Mail reports.
Witnesses claimed they heard the sound of gunshots from the helicopter and police later found a pistol and a revolver inside.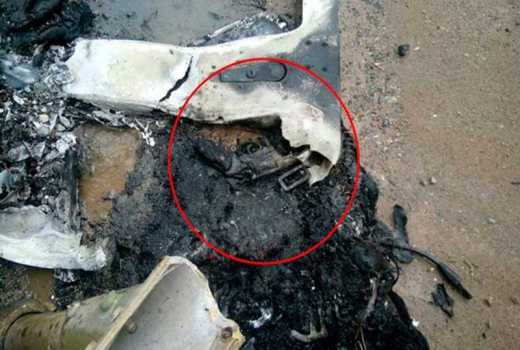 A local said he saw the helicopter begin to spin out of control before starting to fall.
He said that everyone was screaming as the chopper crashed and people rushed to help.
The helicopter, used for sightseeing tours, was reportedly booked out by Silva and his accomplice who allegedly kidnapped the crew after it left from Penha.
Firefighters controlled the blaze as plumes of black, thick, smoke engulfed the area.
Officials reportedly say that Silva was on temporary release from a semi-open prison where he was serving a sentence for drug trafficking convictions.
It is feared he was trying to get an inmate out of the Joinville Regional Prison as he was due to be transferred to a maximum security prison.
Detectives are waiting to question Silva in hospital, after he suffered second and third degree burns to 15 percent of his body.
Speaking to local media, Detective Tania Harada said: "After the pilot left Penha, he allegedly sent a code to his head office in Curitiba a few minutes into the flight that the aircraft had been kidnapped. We believe the passengers announced the hijacking soon after the helicopter took off.
"We suspect the aircraft was hired by the two men to fly over the Joinville area, but we are still investigating the motive and the circumstances behind what appears to be criminal activity."
Avilon Air Taxi, who owned the helicopter, provides chartered services for amusement park Beta Carrero World but they said the aircraft was not working for the amusement park yesterday.
The journey was not scheduled and investigators are looking into why the pilot took the route he did.