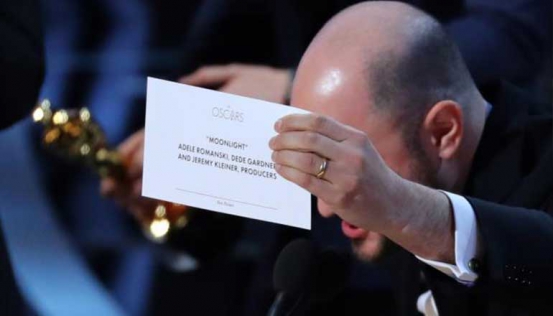 An accountant for the Academy Awards was at the center of a probe on Monday over how a meticulous procedure for announcing the Oscar best picture went disastrously awry, handing victory to "La La Land" before declaring "Moonlight" the real winner.
In a gaffe on Sunday that stunned the Dolby Theatre crowd in Hollywood and a television audience worldwide, presenters Warren Beatty and Faye Dunaway were handed the wrong envelope for the movie industry's top award.
The Wall Street Journal and celebrity website TMZ.com reported on Monday that one of the PricewaterhouseCoopers accountants responsible for handing out the sealed envelopes on Sunday had posted a backstage photo of actress Emma Stone on Twitter minutes before the mix-up.
The photo, from the Twitter account of Brian Cullinan, was later deleted but was still viewable on Monday on a cached archive of the page.
PricewaterhouseCoopers U.S. chairman Tim Ryan told USA Today on Monday that Cullinan was the person who handed the envelope to Beatty.
PwC did not respond to requests for comment on Cullinan's tweet, nor his role in the envelope fiasco. Cullinan could not immediately be reached for comment.
The mistake was not rectified until the "La La Land" cast and producers were on stage giving their acceptance speeches. It was left to the musical's producer, Jordan Horowitz, to put things right.
"Guys, guys, I'm sorry. No. There's a mistake," Horowitz said. "'Moonlight,' you guys won best picture. This is not a joke."
It took PricewaterhouseCoopers, which has been overseeing Academy Awards balloting for 83 years, three hours to issue a statement confirming that Beatty and Dunaway "had mistakenly been given the wrong category envelope."
"We are currently investigating how this could have happened, and deeply regret that this occurred," the accountants said in a statement on Monday. The Academy of Motion Picture Arts and Sciences, which organizes the Oscars, has made no comment.
Oscar winning ballots are carried along the red carpet by personnel from Price Waterhouse Coopers as they arrive for the 89th Academy Awards in Hollywood, California, U.S. February 26, 2017. REUTERS/Mike Blake
An embarrassed Beatty carried the envelope in his hand to the glitzy Governor's Ball after the show, with the writing clearly saying "actress in a leading role." "La La Land" star Stone had been awarded that Oscar moments before.
Brand management experts said it could take years for PricewaterhouseCoopers (PwC) to recover.
"This is not advanced math. PwC had to get the right name in the right envelope and get it to the right person," said Tim Calkins, a marketing professor at Northwestern University, calling the blunder a "bit of a branding tragedy."