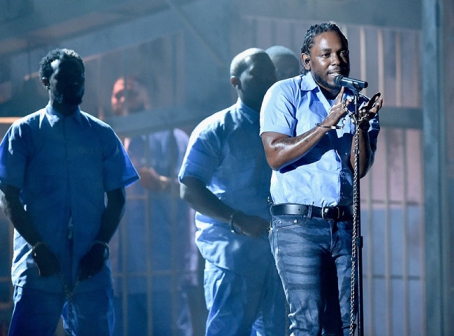 Hip-hop ruled the Grammys stage on Monday in performances that put racial tension back in the national spotlight and where some of music's biggest stars failed to deliver, or in the case of Rihanna, failed to show up at all.
Kendrick Lamar's "To Pimp a Butterfly" lost out on the coveted album of the year. But it was his passionate, politically charged performance of "The Blacker the Berry" and "Alright," featuring chained black men in a prison, and African tribal dancers, that quickly stole the show.
"I'm African-American, I'm African, I'm black as the moon, heritage of a small village, pardon my residence, came from the bottom of mankind," rapped Lamar, 28, who hails from Compton, California, the birthplace of hip-hop.
Lamar's performance ended with a backdrop of a large map of Africa with the name Compton written across it.
National Public Radio's Eric Deggans called it "A performance that woke up a sleepy #Grammys" and entertainment website E! Online tweeted that "Kendrick Lamar just SHUT. IT. DOWN. at the Grammys."
Lamar wasn't the only rapper making waves.
Broadway's sold-out musical "Hamilton" which mixes rap, jazz, ballads and casts black and Latino actors as the U.S. founding fathers, performed live from New York. The show won the best musical theater album award and its creator, Lin Manuel-Miranda, delivered his acceptance speech in rap.
"Kendrick then Lin Manuel serving nonstop back to back black and brown genius", tweeted Daniel Jose Older.
Going into the Grammys, all eyes had been on Adele, who was returning to music's biggest night after a four-year absence and following the blockbuster success of her new album "25."
But the British singer's delivery of ballad "All I Ask," was marred by sound issues and uncharacteristic flat notes that dismayed many fans.
"The piano mics fell on to the piano strings, that's what the guitar sound was. It made it sound out of tune. Shit happens. X" Adele tweeted in response.
Instead, it was Lady Gaga who brought the audience at the Staples Center in Los Angeles to its feet with a psychedelic tribute to David Bowie, who died in January.
Rihanna pulled out at the last minute with bronchitis, disappointing fans watching at home who complained the 2016 Grammys lacked star power.
"But can we really blame Rihanna? If I was at the Grammys I would've left too," Twitter user Sophia commented.
Beyonce later made the briefest of appearances to present an award at the end of the 3-1/2-hour show, but did not perform.
(Reporting by Jill Serjeant; Editing by Clarence Fernandez)