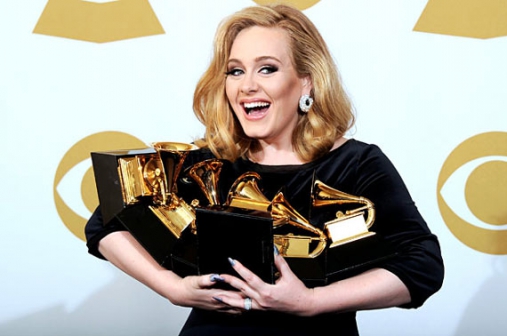 The British star wasn't listed among the likes of Kendrick Lamar, Taylor Swift and The Weeknd and her fans were totally confused.
The 2016 Grammy Awards nominations have been announced with Kendrick Lamar leading the way, but some fans were left scratching their heads about why Adele wasn't mentioned.
Her record-breaking comeback album 25 has taken the world by storm, but it's been less than a month since its release so it wasn't eligible for consideration.
Adele managed to smashed through records as she set the record for the most downloads of her single Hello, as well as managing to shift 3.38 million of her album in the first week.
But it won't be recognised in the 2016 Grammy Awards.
Fans who didn't know the rules were outraged on Adele's behalf, wondering why she hadn't been listed along the likes of Taylor Swift, The Weeknd and this year's nom leader Kendrick Lamar.
"I guess Adele "Hello" deserve a Grammy huh?" tweeted one fan.
Another tweeted: "so adele isn't nominated for a grammy, what kind of joke is this?"
One Adele fan really took it to heart, as they wrote: "Actually screaming over how Adele didn't get a grammy nomination at all."
On its website, to be eligible for a Grammy, they state: "For the 58th Annual GRAMMY Awards, albums must be released between Oct. 1, 2014 and Sept. 30, 2015."
Adele sadly didn't make the cut with the timing of her single and album release only dropping in late October and November.
The British beauty already has 10 Grammy awards sitting at home after having scooped the gongs in every category she was nominated for in 2012, 2013 and 2014.
We reckon we might be seeing a lot of Adele in 2017, don't you?
The 83 categories were announced this morning, with Kendrick leading the noms with 11 nods.